---
An Opening Ceremony: Live from LA!
Salutes to leaders during a uniquely challenging time in healthcare.
---
Another first for the history books of the AAO-HNSF Annual Meeting & OTO Experience was the jump start of the day's programming with the Opening Ceremony–available both live for the in-person attendees in Los Angeles and livestreamed for the virtual participants.
Carol R. Bradford, MD, MS, AAO-HNS/F President, extended a warm welcome to all attendees for this traditional gathering of the global otolaryngology community since the start of the COVID-19 pandemic and noted the ongoing value of the specialty's work together.
"There continues to be high levels of collaboration within our specialty as evidenced by the combined 'Presidents' Reception'' honoring current and Past Presidents of the Academy and specialty societies, and the bi-annual Specialty Unity Summit that continues to work on issues common to the specialty. At the top of that list is the future of scientific meetings in the post-COVID Era. We really need each other, so we can all succeed."
James C. Denneny III, MD, AAO-HNS/F Executive Vice President and CEO, made a special tribute to Duane J. Taylor, MD, Immediate Past President; Dr. Bradford; and Ken Yanagisawa, MD, President-elect, for their tireless efforts during these trying COVID-19 times for healthcare.
"I would like to salute Dr. Duane Taylor and Dr. Carol Bradford for their exceptional leadership during the last two years and Dr. Ken Yanagisawa who will be taking over as our third COVID President."
Dr. Bradford  expressed heartfelt remarks about her Presidential Citation awardees, Gregory T. Wolf, MD, Dr. Denneny, and David Bradford. This was followed by the ceremonial presentation of the President's medallion to Dr. Yanagisawa and the Past President's gavel and pin to Dr. Bradford.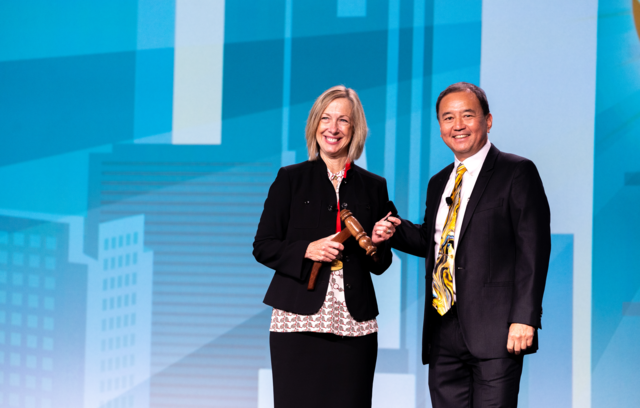 The program wrapped up with an interactive keynote presentation from Neha Sangwan, MD, titled "Self-Care in Healthcare," in which she outlined practical and powerful tools to prevent burnout.
"The pandemic has surfaced issues that have been simmering in healthcare for decades. Our training has taught us to sacrifice our own well-being as a noble act in service to our patients. This can no longer be an either/or, it must be both AND—as a powerful, smart group, we are very capable of collectively figuring out what it will take to both take care of ourselves AND our patients." 
If you missed the Opening Ceremony, all content that is presented live and livestreamed will be available as on-demand content on the meeting platform.