---
Understanding Practice Vitals: Metrics to Maximize Success
Being able to assess the health of your practice is critical to the ongoing success of physicians throughout the various models of clinical practice in otolaryngology.
---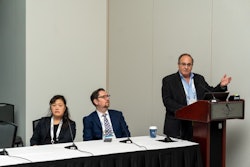 On Tuesday morning, Daniel R. Gold, MD, Annette M. Pham, MD, and Pablo Stolovitzky, MD, led a panel focusing on measures and metrics related to an individual physician's practice as well as those assessing practice-wide health. The session was aimed at physicians just starting out as well as those looking to optimize an already established practice.
For either level of experience, you may ask yourself, "Why do I need to measure my practice's vitals?" Dr. Gold led the discussion by detailing how measuring the health of your practice, just like you would monitor and measure the health of your patient, helps you:
Better understand what you are doing, in terms of what you are doing well as well as identifying areas of improvement
Set key benchmarks to identify year-over-year trends, location trends, provider trends, your business line and ancillary performance, your revenue cycle and collections, and staffing and other expenses
Compare your practice to others similar to yours and within geographic proximity in order to identify new opportunities
The use of thoughtfully targeted metrics can examine success in areas such as clinical care, marketing, patient satisfaction, financial strength, and business development. These tools offer physicians objective data to assess their areas of strength and weakness, allowing them to effectively focus their limited resources on targeted areas.
Performance Indicator (PI) or Key Performance Indicator (KPI) is a type of performance measurement. KPIs evaluate the success of an organization or of a particular activity in which it engages, such as overall performance, operational performance (i.e., staff vacancies, turnover/retention rate, phone call statistics), patient satisfaction, patient access (i.e., wait times, same-day appointments), and revenue cycle management (RCM) (i.e., collection ratios, A/R days and A/R aging comparisons, days service outstanding).
"If I could only pick one KPI to measure and monitor, which would it be?" Dr. Gold asked. "Days service outstanding." Days service, or sales, outstanding (DSO) is an accounting metric that measures the average number of days it takes a business or practice to receive payment for goods and services purchased on credit. The lower the DSO, the faster payments are collected. The higher the DSO, the longer it takes the business to see its money.
"You need to take the pulse of your practice," Dr. Gold explained. How much time does it take from the submission of a clean claim to deposit of reimbursement into your practice account? Metrics for DSO include:
Overall volume of practice
RCM efficiency
Completeness or "cleanness" of your claims
Payer specific issues (claims holds, reprocessing, excessive claims review)
Timing issues (holidays, vacations, weather events, deductible season)
Next, Dr. Pham began her discussion on the Overlooked Metrics: Happiness and Satisfaction. "Eighty-one percent of patients are not happy with their current medical experience," she said, citing a study by Invoca. And unhappy patients, or consumers, are likely to look for another provider.
Citing another study, the 2023 Patient Perspective Report, she said that 88% of patients would be concerned if their doctor showed signs of burnout. And about 50% of patients tend to give providers two encounters before deciding to switch to a different provider.
"You need to find the 'Happiness Sweet Spot' between you, your employees, and your patients," she explained. Patient satisfaction surveys ask things like, "How likely are you to recommend this practice to your family or friends?" Employee satisfaction surveys are equally important. Dr. Pham said that happier employees are 12% more productive, while unhappy employees are 10% less effective than average, according to studies.
"Happiness is a process. Satisfaction is the result." Dr. Pham ended her presentation with what she called the 4-S Self-Care Scale. "We need to take care of ourselves, too. We need to get the proper amount of Sleep, Sweat (exercise), and Social activities. And don't forget to Smile."
Dr. Stolovitzky led a discussion on physician service agreements (PSA). A PSA is a contractual relationship between a physician practice and a hospital to provide certain services. Physicians are not employed by the hospital, he explained. The physician group is independent, self-governing, and in total control of the business.
PSAs pay each provider the full amount owed each month based on the number of relative value units (RVU) generated, regardless of hospital collections on those payments. The burden of collecting insurance and patient payments is placed on the hospital. Practices must meet all pre-certification requirements, collect patient copays at time of service, and assure that claims transmitted from the EMR to the hospital business office are scrubbed and clean.
Under a hospital clinical integrated network (CIN), there is shared data and reimbursement is based on payer contracts. Billing and collecting is handled by the practice. CINs have membership fees and hospital caseload requirements.
Advantages of a PSA include:
Autonomy
·Symbiotic relationship between hospital and physician group
Cost savings
Stronger negotiating power
One single contract
Disadvantages of a PSA include:
Initial expense
Significant adjustment for nonrenewal
Strained relationships with hospital
Hospital business practices deterioration
"What's the number one reason for a PSA?" Dr. Stolovitzky asked. "Having a steady monthly cashflow regardless of hospital collections."