---
Allyship: Going the Distance
Advancing health equity by being an ally.
---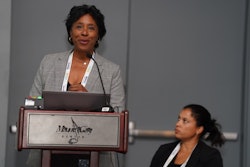 An ally is someone who actively promotes and aspires to advance a culture of inclusion through intentional efforts that benefit people as a whole.
Tuesday's panel "Unlocking the Power of Allyship to Advance Health Equity" sought to show how to be a true ally especially in the medical field in general and otolaryngology more specifically. Allyship has a long, distinguished history in promoting social justice and mitigating inequity. 
"We as a country come from a place of lots of inequities," said Erynne A. Faucett, MD, from the University of California Davis, Department of Otolaryngology Head and Neck Surgery, as she highlighted 400 years of history in four minutes. "We hope with allyship, there are people who can help us overcome." 
"We have not made a lot of progress in the last 10 to 20 years," said Valerie A. Flanary, MD, director of racial equity and inclusion at the Medical College of Wisconsin. "Without having some allies, there is not a lot we can do to improve our mentorship." She pointed to this year's Supreme Court decision that ruled that race doesn't impact admissions to medical schools. 
Using data from the AAO-HNS 2022 Workforce Survey Report, Dr. Flanary showed the low number of people of color and women becoming residents.
Dana M. Thompson, MD, MS, MBA, from Lurie's Children's Hospital of Chicago/Northwestern University, Feinberg School of Medicine, said the data shows there is still work to do. "Allyship is essential to reach our full potential. We have to overcome avoidance, acknowledge bias, build relationships and create trust."
She also outlined what institutions can do to be allies. She said they need to move beyond the "performative," such as bias training and education to intentional efforts in the promotion and retention, coach leaders to confront bias and provide DEI mentorship and sponsorship, and commit to having a diverse faculty, senior leadership, and board.
She also recommended that individuals could become better allies by supporting psychological safety as a culture, providing a supportive environment, being intolerant of bias acts, providing compassionate and real-time feedback to derailers and perceptions, and training and promoting the next generation.
Dr. Thompson and Michael J. Brenner, MD,  from the University of Michigan, introduced the Allyship Toolbox. They encouraged the audience to employ these tools when encountering situations that require them to step up and be true allies.
The tools in the toolbox include:
Read, research, and educate yourself
Speak up for others
Always self-reflect
Confront your own biases
Lift up others by advocating
Have open dialogues
Respond with empathy
Hold others and ourselves accountable.
In closing, Dr. Brenner offered the four A's of allyship: Ask, Acknowledge, Accept, and Act.