---
Global Events at the Annual Meeting
To celebrate important contributions otolaryngologists around the globe make to the specialty, the AAO-HNSF recognizes four countries: Canada, Dominican Republic, India and United Arab Emirates.
---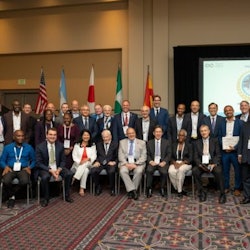 International Symposium
The International Symposiums showcases cutting-edge content presented by international physicians. Sessions provide a global perspective on popular topics in otolaryngology. International Symposium Sessions are scheduled throughout the Annual Meeting. 
International Reception
Relax and reconnect with colleagues from around the globe during the International Reception at the Acme Feed & Seed, a national treasure built in 1890. Experience a true taste of Nashville in this Lower Broadway establishment that has had a front row seat for some great Nashville history. Enjoy the updated honky-tonk atmosphere as you unwind with worldwide colleagues. Everyone's a singer in Nashville, so don't be afraid to hop on stage for karaoke! All international attendees are invited. Shuttle bus transportation to and from the reception will be available. (Monday, October 2 | 5:00 – 7:00 pm)
2023 

Global Regional Roundtab

les
Meet with colleagues from around the world to discuss topics at the forefront of otolaryngology. Attendees will be assembled by region and will meet with AAO-HNSF global leadership to talk about pertinent regional issues and opportunities. This is a prime forum for international attendees and International Corresponding Societies (ICS) to interact with AAO-HNSF leaders. Lunch will be provided.  (Sunday, October 1 | 12:00 – 1:00 pm) 
International Advisory Board (IAB) General Assembly
Learn how the global ENT community can reach across borders to face the common challenges shared by physicians in different countries during the International Advisory Board (IAB) General Assembly. Take part in the conversation and help recognize recipients of international awards. Delegates representing International Corresponding Societies (ICS), international attendees, and U.S. registrants interested in global health should attend the IAB General Assembly, which serves as the "voice" of the international OTO community. This annual event is open to all attendees. (Monday, October 2 | 1:30 – 2:45 pm)
New for 2023
International General Session: Cochlear Implants, Device Technology Developments, and Establishing Worldwide Data Exchange
Join this new International General Session where a panel discussion of industry experts will discuss cochlear implants, device technology, and a worldwide data exchange. This one-hour session is designed for physicians practicing outside the United States and U.S. physicians interested in global health. (Monday, October 2 | 3:00 – 4:15 pm)
Humanitarian Efforts Forum
Listen, share, and discuss pressing issues affecting humanitarian action related to otolaryngology at the Humanitarian Issues Forum.  Gain insight from physicians engaged in humanitarian outreach who will share their perspectives on the current global landscape and discuss opportunities and challenges for sustainable humanitarian action. Whether you are new to medical outreach, or you have spent years working in under-served areas and in countries with limited resources, you are invited to join the conversation. (Tuesday, October 3 | 1:00 – 3:00 pm)