---
Tearing Down DEI Barriers
Conley Guest Lecturer encourages otolaryngologists to get comfortable with being uncomfortable during can't-miss Opening Ceremony presentation.
---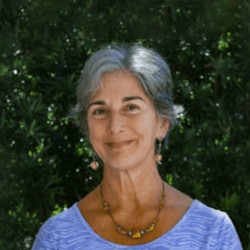 Jennifer R. Grandis, MD, has held clinical, scientific, academic, and leadership positions at the top of her field. She has completed an abundance of translational research and helped to discover innovative treatments for head and neck cancer patients. Lately, Dr. Grandis has been examining the inadequacies of diversity, equity, and inclusion found in medicine and science.
Her collective efforts and experience have afforded her this year's Honorary Guest Lecturer of the John Conley, MD Lecture on Medical Ethics. Dr. Grandis will highlight some of her most recent findings as part of Sunday morning's Opening Ceremony.
AAO-HNSF Meeting Daily News visited with Dr. Grandis as she reflected on her career ahead of the Annual Meeting. Currently, she is professor of otolaryngology-head and neck surgery and member of the Developmental Therapeutics Program at the University of California, San Francisco (UCSF) School of Medicine, Helen Diller Family Comprehensive Cancer Center.
Q: Congratulations on being named Guest Lecturer for the John Conley, MD, Lecture on Medical Ethics. What does it mean to be presented with this esteemed recognition?
Dr. Grandis: It means the world to me to be recognized and honored by my otolaryngology community. I took an atypical career path, staying in academia and dedicating much effort to becoming an investigator as well as a surgeon. There were times when it felt like I drifted away from ENT (cancer biologists are mostly non-ENT physicians). Thus, to be recognized now by one of the largest ENT professional organizations is a true honor.
Q: What role does ethics play in your day-to-day professional and personal life?
Dr. Grandis: To me, ethics is a framework for guiding my behavior and assessing the behavior of others. How we treat each other matters, and getting to a place where I can understand the values and goals of the people I encounter (personally and professionally) has been a lifelong journey. We can always do better. 
Q: Going back to the beginning of your career, how did you decide to pursue otolaryngology?
Dr. Grandis: I was captivated by my surgery rotation as a medical student but was put off by the paucity of women and the frustrations/unhappiness of the few women I encountered. I chose otolaryngology because while there were few women (I was the only woman ENT resident when I matched and the last one had finished 10 years earlier), the men were kind, and I felt that I could find a way to fit in.
Q: What then inspired you to the science and research side where you've spent a lot of time participating in and supporting cancer studies and translating their findings into clinical applications?
Dr. Grandis: I realized that even when our surgeries to remove head and neck cancers were successful, the patients still suffered (often from the treatment) and their cancers often recurred, and they died. I felt that to really help my patients, I needed to understand the biology of head and neck cancer and develop more effective, less toxic, therapies.
Q: What do you see as the key action items to overcoming DEI barriers at the cultural, organizational, and individual levels?
Dr. Grandis: Given the increasing backlash against DEI efforts, it is worthwhile exploring the barriers to achieving what seems like relatively noncontroversial goals of diversity, equity, and inclusion. We need to provide space for people to openly disagree and explain their point of view. We need to have hard conversations about what we experience and see every day in our professional lives. Getting comfortable with feeling uncomfortable is essential to solve these hard problems.
Q: Can you share one of your proudest moments in your tenured profession?
Dr. Grandis: My 60th birthday occurred during the pandemic when we moved to Zoom meetings. My trainees organized a surprise celebration, co-opting a routine lab meeting, and I had the chance to listen to about 30 of my former and current colleagues speak about what I meant to them. It really underscored for me that people mostly remember how you make them feel.
Q: Is there anything else you would like to add about your experience or research?
Dr. Grandis: We can only expect to bring our best selves to our work. How others feel about these versions of us often gets in the way of doing our jobs. My own experiences and what I heard from the people I interviewed for my study suggest that we cannot solve problems we don't fully understand. Policies alone aren't enough. Relying on heroes/heroines can be risky when they are replaced. The key is to infuse our system(s) with checks and balances and provide plenty of space to talk about uncomfortable experiences that are not consistent with DEI principles.