---
Exploring Facial Paralysis and Innovations in Nerve Regeneration
Neel Distinguished Research Guest Lecturer traces her work and advocacy for patients with facial palsy.
---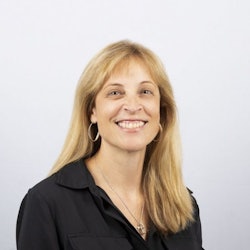 Established by family and friends in 1993, the H. Bryan Neel III, MD, PhD Distinguished Research Lecture serves to inform the otolaryngology community with information regarding new advancements in biomedical science. This year's Honorary Guest Lecturer is Theresa A. Hadlock, MD, professor of otolaryngology – head and neck surgery at Harvard Medical School in Boston, Massachusetts.
Dr. Hadlock, who prefers to go by Tessa, is a globally acclaimed clinician, investigator, and advocate for facial palsy. She has treated more than 5,000 patients with facial palsy throughout her career and has been a part of humanitarian efforts in Ecuador, Haiti, and Uganda in the last decade.
In addition to her passion for patients and dedication to research, Dr. Hadlock gives back to the specialty through mentorship. Currently, she is a preceptor for the clinical fellowship program in facial plastic and reconstructive surgery at Massachusetts Eye and Ear.
AAO-HNSF Meeting Daily News spoke with Dr. Hadlock in advance of the Annual Meeting to learn more about her commitment to the specialty, her collective work experience, and her personal motivation and aspirations. 
Q: Congratulations on being named the H. Bryan Neel III, MD, PhD Distinguished Research Guest Lecturer. What does it mean to be presented with this esteemed recognition?
Dr. Hadlock: It is a tremendous honor to have been asked to present this lecture. Not only does it allow us to share scientific knowledge and insights, but it personally gives me an opportunity to revisit the basic science and translational and clinical research in nerve regeneration and facial reanimation accomplished over the past 28 years at Massachusetts Eye and Ear. 
Q: Can you share some pivotal moments that have put you on this path?
Dr. Hadlock: The most pivotal moment was deciding on surgery—general surgery at first, which took a fortuitous turn toward otolaryngology-head and neck surgery. Then, I took an even more specific pivot to facial plastics and finally arrived at my career problem: facial paralysis. I was lucky to identify this difficult problem as a junior resident. A tremendous mentor told me, "If you are going to pick a career problem, make it a hard one." Another mentor exposed me to a young patient with congenital facial paralysis. I put these two things together and have never looked back. 
Q: What inspired your humanitarian efforts to perform reconstructive surgeries on underserved youth in South America? How has this experience impacted you both professionally and personally.
Dr. Hadlock: We all go into medicine to help others, but there is a specific satisfaction in embedding oneself in a community and making a decades-long commitment to providing care in resource-constrained environments. I spent time living in South America as a young child, and Spanish is almost another primary language for me. I have become deeply connected with patients, families, and colleagues through this long-term effort, particularly in Ecuador. Going there yearly, where we don't always have everything one might have in an American operating room, makes one realize you can do a lot with much less. Improvising does not detract from the surgical result, but rather helps us recognize that our equipment, instruments, and supply footprint could be a lot smaller! 
Q: How do you approach your role as an advocate to facial palsy patients and the community?
Dr. Hadlock: With both feet. Every fiber of my being and my professional existence is committed to the facial paralysis patient. My goal is to understand the plight from a functional, esthetic, and communication perspective, and educate trainees and others about how to try and do the best for these patients.
Q: You also dedicate time as a mentor to clinical fellows. Why is this important to you and to the field? 
Dr. Hadlock: Being a competent and thoughtful facial reanimation surgeon would only benefit the patients I can treat over the course of a career. Training the next cohort of facial nerve clinicians allows that influence and the insights gained through every case to be perpetuated across the generations. This reality is incredibly poignant in facial paralysis because it takes so many years to follow and understand clinical results. One does not begin to develop sustained insights for years after taking care of a facial paralysis patient, and even then, it is with long-term follow-up and self-criticism. These things can sometimes elude us, so when there is an opportunity to pass on hard-earned wisdom, I feel a responsibility to do that. 
Q: Your work in facial paralysis is renowned worldwide. What do you see as current obstacles to advancing development in this specialty? How can these disorders receive more importance and awareness from clinicians and researchers, as well as the general public?
Dr. Hadlock: One big obstacle to advancing the specialty is that so many people do "a little" of it. This dabbling leads to a lot of people knowing a little about the problem, rather than fewer people knowing a lot about the problem. Facial paralysis is taken care of not only by otolaryngologists, but also neurologists, plastic surgeons, and oral and maxillofacial surgeons. This massive spread across specialties makes it a bit too broad, not deep. Second, despite the fact that we have developed and validated important outcomes tools for the problem, adoption of these tools has not been as widespread as it could be. If we all used the same series of outcomes measures, we would arrive at answers about the effectiveness of new innovations compared with standard approaches much quicker. 
Q: Is there anything else you would like to share about your experience, research, or the Guest Lecture?
Dr. Hadlock: I am very grateful for the opportunity to speak, and I want to give a huge thanks to Massachusetts Eye and Ear and Harvard Medical School for giving me the platform to dive into this problem so wholeheartedly.