---
Staying Ahead of Artificial Intelligence
Staying at the forefront of new technology is important to the safety and treatment of patients.
---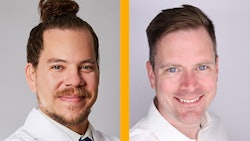 Artificial Intelligence (AI) is seemingly making its way into every corner of society, and otolaryngology is no exception. More specifically, machine learning—a subset of AI that allows computer systems to improve their performance without being explicitly programmed—could have broad-ranging implications for the future of the specialty.
Alexander Rivero, MD, associate faculty and otolaryngologist at Kaiser Permanente Oakland Medical Center, said some forms of machine learning have been around for decades. 
"There have been applications of AI and machine learning in otolaryngology as early as the 1980s and 1990s revolving around the accurate diagnosis of sensorineural hearing loss in different populations as well as the diagnosis of vestibular disorders," he said. "In the field of rhinology, there are applications for machine learning that allow for image processing and analysis of sinus CT scans to accurately classify sinusitis severity as well as optimize surgical navigation and planning. In the field of head and neck oncology, AI has been applied to the classification of malignant lesions based on radiographic and histopathologic features, and in laryngology, it has been used to distill sound data and diagnose common vocal disorders." 
Matthew G. Crowson, MD, MPA, MASc, otolaryngologist at Massachusetts Eye and Ear, in Boston, Massachusetts, and healthcare specialist leader in AI with Deloitte Consulting, said recent interest in AI within the field has been significant. 
"We are seeing an explosion in interest in using AI in otolaryngology across various use cases," Dr. Crowson said. "Applications include diagnostic tests, prognostic modeling, and patient engagement in virtually every ENT subspecialty are a common presence in every Otorhinolaryngology-Head and Neck Surgery (OHNS) subspecialty journal." 
And much of the current news regarding AI has honed in on AI-powered language models like ChatGPT, which can be used to generate human-like content based on context and previous learning. Dr. Rivero said otolaryngology has not been spared from the onslaught of these models. 
"Generative technologies, such as ChatGPT, are currently rampant in the writing of medical manuscripts, answering patient queries, providing patient handouts, and developing clinical management tools," Dr. Rivero said. "These advances will eventually allow for improved diagnosis and management of otolaryngologic disease as well as generate research into new treatments." 
Dr. Crowson and Dr. Rivero will be among five panelists discussing these and other aspects of AI in Tuesday's session, "Entering the AI Age: How Artificial Intelligence is Transforming Otolaryngology." 
In spite of its many uses, both doctors agreed that AI and machine learning are not without their downsides. 
"The drawbacks have much to do with the way the systems are currently designed," Dr. Rivero said. "AI and machine learning are highly dependent on the data set used to train the algorithms, and thus inherent biases in this data can translate to unknown—and potentially deleterious—effects on the observed outcome. Fortunately, there is a whole field of computer science that is dedicated to studying the black box workings of these algorithms to help better identify these faults and plan accordingly." 
"These limitations span the domains of safety, privacy, transparency, accountability, and societal impact," Dr. Crowson added. "For example, there have been several high-profile cases where AI model output was demonstrably biased. Such models may perpetuate inequities in healthcare delivery toward vulnerable and disadvantaged communities. We also do not have a consensus on accountability—when a model errs, who is to blame? The medicolegal framework for this eventuality does not yet exist." 
Whatever the path AI may take for otolaryngology in the future, Dr. Crowson said the issues of privacy and data governance must be addressed. 
"AI systems should be designed to protect individuals' privacy and ensure that data is used responsibly," he said. "This means that AI systems should only collect the data they need, and they should not share or sell data without the individuals' consent. We see reports that entities are web scraping information without regard to source or ownership for training elaborate machine learning models. Further work is needed to ensure that data is being used appropriately, responsibly, and with the consent of the owners of that data." 
Although some form of AI has been around for decades, Dr. Rivero added the newer forms such as ChatGPT are still in their infancy and will require a vigilant outlook going forward. 
"We are currently in an era in which society is going to grapple with this behemoth of a technology that will ultimately interdigitate with all parts of human living," he cautioned. "As physicians and surgeons, it is imperative that we stay abreast of this new technology, stay relevant to its applications to our field, and most importantly, participate actively in its development for the betterment and safety of our patient populations."