---
The Flourish Factor
Rather than running the endurance race, pursue performance.
---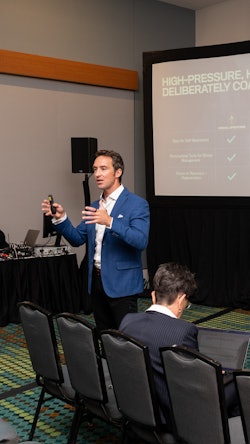 Are you languishing rather than flourishing? On a particularly difficult day, what do you do to manage stress? Meditate? Exercise? Speakers of Sunday's session, "Building High-Performance ENT Teams: A Data Driven Approach to Flourishing," posed these questions.
The world invests heavily in world-class athletes, such as marathon runners, elite military personnel, such Navy SEALS, and high-risk performers, such a Cirque de Soleil, with training, tools, and technology. However, surgeons, doctors, and nurses, who also are in the same high-risk and high-performance category, are not supported in the same ways, they said.
"How can we do better for ourselves, which will allow us to do better for our patients?" posed Sarah N. Bowe, MD, EdM, director of pediatric otolaryngology with the Defense Health Agency in San Antonio, Texas.
Dr. Bowe said the session wasn't the same typical burnout conversation. It is not about personal resilience, she said, but how to move from "high endurance," which is typical in the medical profession, to "high performance."
In her quest to get past languishing and to flourishing, Dr. Bowe said she started reading a lot of research and articles about burnout and resilience. She even became a certified wellness professional. In advocating for herself, she met her co-panelist Brian B. Ferguson, founder of Arena Labs.
As a former Navy SEAL and healthcare professional, Ferguson questioned why medical schools were not training their students about stress and encouraging them seek  coaches to help them improve performance and care for themselves just as athletes have coaches to help them excel in their field.
 "What medical schools and the 'sacred world of medicine' encourage is endurance or 'how long can I go' versus performance or 'how good can I get?'" Ferguson said.
Ferguson showed the 1987 photograph of the year from National Geographic to illustrate the concept of endurance for medical professionals. It was the James Stanfield's photo of Zbigniew Religa, MD, the pioneer of human heart transplantation in Poland. It featured Dr. Religa watching his patient's vital signs after the 23-hour-long operation. In the background, a nurse collapsed on the floor after the grueling surgery. Dr. Religa's body language conveys extreme exhaustion, yet his eyes conveyed the hope of the moment.
"When we believe in something bigger than ourselves, we can transcend ourselves," Ferguson said.
In his work, Ferguson guides clinicians through six foundational pillars of human performance and flourishing. From hydration to sleep science,
He provided suggestions for attendees, including the physiological sigh, a breathing pattern consisting of two inhales through the nose followed by an extended exhale through the mouth. The first breath though the nose is almost to capacity, followed by one more quick nasal inhale that further pops open the air sacks in the lungs. Stress comes down automatically.
"One of the best tools to deactivate the nervous system," Ferguson said.
Using world-class athletes and his own experience as a Navy SEAL, he said collecting data and understanding it helps improve performance as well as mental health. He cited the example of Eliud Kipchoge, the first human to run a sub-two-hour marathon. Kipchoge clocked the 42.195-kilometer distance at 1:59:40:2.
"Having proven tools to support them, athletes achieve great things," he said. "Surgical theaters are the same thing. It is small team, deeply mission driven and complex. Your environment is no-fail."
"You need data for self-awareness, personalized tools for stress management, focus on recovery and regeneration to get into the performance paradigm," he said.
Ferguson warned of allostatic load, which is the wear and tear on the body from the burden of chronic stress and life events. When environmental challenges exceed the individual's ability to cope, then allostatic overload occurs. Allostatic overload can cause declines in mental and physical health, he said.
"Taking care of ourselves is part of our mission," he said.