---
University of Puerto Rico Residency Program Wins Title at #OTOMTG23 Academic Bowl
Competitive and spirited battle for the 2023 Champions Tournament.
---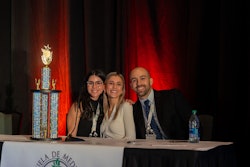 The 16th Annual Academic Bowl, held Tuesday afternoon and moderated by Richard V. Smith, MD, was special edit and presented as a "Champions Tournament," inviting four top winning otolaryngology residency programs to return and compete once more. Interactive, multiple-choice questions were generated through the AAO-HNSF Education Committees and designed to test residents' knowledge in different otolaryngology subspecialties, the business of medicine, and new clinical research findings. Congratulations to the University of Puerto Rico Program for securing the highest score and winning the Tournament of Champions! Also competing were the Loma Linda University Health Education Consortium Program, the Louisiana State University Program, and the Massachusetts Eye and Ear Infirmary/Harvard Medical School Program.
Representing the University of Puerto Rico Residency Program were Antonio E. Bures-Rodriguez, MD, Soraya Abdul-Hadi Martinez, MD, and Coral Ruiz Mojica, MD.