---
Myers Lecture Traces Recurrent Disease in Head and Neck Cancer
Speaker recounts the journey to better understand the molecular and biologic basis of recurrence through current attempts to reverse, or at least slow, the progression of precancerous lesions.
---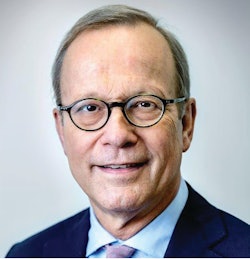 Many head and neck cancers have excellent five-year survival rates, but not all. Advanced head and neck squamous cell carcinoma (HNSCC), for example, has a persistent local recurrence rate up to 30% despite negative surgical margins and improvements in chemoradiation therapy.
"Recurrence is a life-threatening problem for the patient and not very rewarding for the surgeon and treating physician team, but it's a fact of life and you have to do something about it," said Prof. C. René Leemans, MD, PhD, FRCSEd, (Hon) Professor and Chair of Otolaryngology-Head and Neck Surgery at Amsterdam University Medical Centers in The Netherlands. He is also the Director of the Advanced Fellowship Program in Head and Neck Surgery and Oncology.
"In the 1990s, we realized that to do something about locoregional recurrence, you first need to understand, to analyze, the basics of the reasons a tumor comes back."
Dr. Leemans will recount the journey from early attempts to better understand the molecular and biologic basis of recurrence through current attempts to reverse, or at least slow, the progression of precancerous lesions on Monday during the Eugene N. Myers, MD International Lecture on Head and Neck Cancer, titled, "Unraveling Locally Recurrent Head and Neck Cancer: From Clinical Problem to Molecular Explanation." Molecular studies of HNSCC surgical sites yielded important findings in both residual disease and in genetic alterations that drive oncogenesis and can facilitate the development of precancerous lesions and progression to frank tumors.
One obvious problem is undetected minimal residual disease that can progress to recurrent disease. The gold standard for HNSCC surgery is 0.5 cm negative pathologic margins. Even that may not prevent recurrence, he said.
"There is always the small possibility of individual tumor cells that weren't seen by the pathologist at the margins," Dr. Leemans explained. "A tumor the pathologist thought was radically removed actually wasn't removed, so there was no adjuvant treatment given and the tumor came back from that minimal residual disease that was not diagnosed."
Years of molecular investigation identified a second problem, precancerous lesions near the index tumor that are visually indistinguishable from normal tissue.
HNSCC develops in the epithelial lining of the oral cavity, pharynx, larynx, and cervical esophagus. It is most often caused by familiar risk factors, including tobacco use, excessive alcohol consumption, persistent human papillomavirus (HPV) infection, and genetic predisposition.
"Those risk factors ultimately give rise to the tumor, but also to precancerous tissues surrounding the tumor," Dr. Leemans said. "You can't simply remove all of these mucosal abnormalities with every surgery, even if you can see them, because you need to limit your surgery in order to preserve some kind of function for the patient. And these precancerous tissues, if they had enough genetic alterations, give rise to new tumors that look like a recurrence, but are genetically distinct from the primary even if they have some alterations in common with the initial tumor."
These precancerous mucosal changes are characterized by tumor-associated changes to TP53, NOTCH1, FAT1, and other genes. Some precancerous fields are readily visible, including leukoplakia, but most fields are macroscopically invisible, Dr. Leemans said. These fields can be far larger than the primary tumor and may progress to what appear to be local recurrences, within 2 cm of the index tumor, or appear as second primary tumors, more than 2 cm from the index tumor.
Progress in field cancerization has been driven by new molecular tools, but clinical translation has been slow. Because most fields are invisible to the naked eye, diagnosis and potential therapeutic intervention are problematic, he said. Autofluorescence, narrow band imaging, Raman spectroscopy, and other visualization tools can help.
But once identified, precancerous fields are not malignant and pose no immediate risk. Although not benign, the lack of clear and present danger makes it more difficult to establish therapeutic benefit and justify potential adverse effects of treatment.
Also, the shift toward more nonsurgical treatment strategies forms a new challenge for research.
"That is the journey we have taken over the last 25 years," Dr. Leemans said, citing colleagues such as Prof. Ruud Brakenhoff, MD, and many others on the team. "We still have not found the ultimate solution. We are looking toward a treatment that is able to reverse the genetic alterations that have already taken place in the tissues without too much toxicity or eradicate the cells that carry them. If we can find such a method, we could give it to patients who have been surgically treated and have precancerous lesions left behind. We are closer to our ultimate goal of diminishing the number of recurrences and improving the outlook for our patients."