---
Solutions for the Masses
Distinguished Research Lecture honors the mission of H. Bryan Neel III, MD, PhD.
---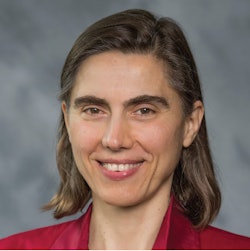 Sensorineural hearing loss (SNHL) is the most common sensory deficit, impacting nearly half a billion people worldwide. Yet, despite the magnitude of the problem, there remains considerable unmet medical needs for personalized, cellular-level diagnosis, and treatment.
Those are just some of the staggering statistics Konstantina "Tina" Stankovic, MD, PhD, will share during Tuesday's H. Bryan Neel III, MD, PhD Distinguished Research Lecture. Her presentation, "A Multiscale Framework for Precise Diagnosis and Therapy of Human Sensorineural Hearing Loss," will assess the current situation as well as a path forward.
"Current limitations include an inability to safely and accurately image at high resolution and biopsy the inner ear, precluding the use of key structural and molecular information during diagnostic and treatment decisions," said Dr. Stankovic, the Bertarelli Foundation Professor and Chair of the Department of Otolaryngology–Head and Neck Surgery at Stanford University School of Medicine in California. "Furthermore, there remains a lack of pharmacological and biological therapies for hearing loss, which can partially be attributed to challenges associated with new drug development."
Dr. Stankovic is a Harvard-trained ear and skull-base surgeon and a Massachusetts Institute of Technology-trained auditory neuroscientist. Her clinical focus is otology and neurotology, and she previously served as Chief of the Division of Otology and Neurotology at Massachusetts Eye and Ear, a teaching hospital of Harvard Medical School in Boston, Massachusetts. 
In addition to her clinical and administrative duties, Dr. Stankovic directs a basic science laboratory focused on improving diagnostics and therapeutics for sensorineural hearing loss. She has initiated and led successful cross-departmental, national, and international collaborations to develop and deploy novel molecular diagnostics and therapeutics for hearing loss and otologic diseases in general while educating the next generation of leaders in surgery and science.  
Dr. Stankovic's presentation will highlight advances in addressing diagnostic and therapeutic challenges for SNHL, which she believes will accelerate the push toward precision medicine. This includes a look at the power of optical engineering, stem cell biology, drug repurposing, and magnetic cell stimulation to hasten progress in addressing hearing loss.
Dr. Stankovic said her presentation aligns with the values and legacy of Dr. Neel in that it contributes toward the dissemination of information regarding new tools and techniques in biomedical science and engineering to the otolaryngologic community.
"The main takeaway is that by identifying the major unmet medical needs of our patients and using these insights to inform and guide research, we will ensure intellectual vitality of and enable future advances in our field," Dr. Stankovic said. "I hope this will encourage attendees to be bold in selecting their own research topics while engaging with basic scientists and engineers."