---
Upping Your Game
Understanding the patient experience improves care.
---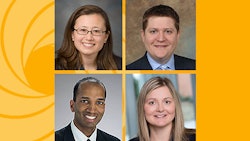 Seeing care through a patient's eyes is valuable insight and a roadmap for improvement. That roadmap is the focus of Tuesday's session, "Patient Experience: Why It Matters and How to Improve It."
According to session panelist Carol M. Lewis, MD, Professor of Head and Neck Surgery and Associate Chief Patient Experience Officer for the University of Texas MD Anderson Cancer Center in Houston, Texas, such insight impacts practicing otolaryngologists, and how they can improve. The session will also include a discussion of AAO-HNSF's star rating program, whereby patient survey data is used to create a provider star rating that is published online.
"Patient experience, often measured through patient experience surveys, is now a commonplace metric of medical practice that can inform and impact referral patterns, practice volumes, potential revenue, and compensation," Dr. Lewis said. "While often seen as just another metric we have to cater to, these data can be used to improve our practices for both providers and patients."
Learning how to interpret these data and to identify and prioritize areas of quality improvement are the first steps in moving forward toward making improvements, Dr. Lewis said. In fact, she suggests that providers can, with little resources and in a multitude of settings, improve patient experience.
Several panelists will share quality improvement projects driven by patient experience data, including Matthew Smith, MD, Assistant Professor of Pediatric Otolaryngology - Head and Neck Surgery at Cincinnati Children's Hospital Medical Center in Ohio. Dr. Smith will discuss the ability to gather and synthesize patient satisfaction data, plan, and enact a quality improvement (QI) project aimed at improving patient satisfaction scores. He will describe his team's results of improving inpatient rounding workflows.
Kiran Kakarala MD, Professor and Vice Chair for Patient Safety and Quality Improvement in the Department of Otolaryngology – Head and Neck Surgery at The University of Kansas School of Medicine in Kansas City, Missouri, will address how to interpret patient satisfaction scores and demystify terms such as "top box score" and "percentile rank." Dr. Kakarala will also identify and discuss key drivers for these scores and how surgeons can implement quality improvement projects aimed at improving patient experience. 
Similarly, Agnes M. Hurtuk, MD, Assistant Professor in the Loyola Department of Otolaryngology - Head and Neck Surgery and Ambulatory Medical Director for Otolaryngology at the Loyola University Medical Center in Maywood, Illinois, will provide up-to-date information regarding the increasing emphasis and importance being placed on the patient experience in healthcare. Specifically, she will focus on the organizational and practice infrastructure that impacts patient experience.
"The key factors of the patient experience continuum within healthcare are access to healthcare, patient communication, education, patient engagement strategies focusing on the emerging digital patient engagement tools, and a culture of empathy across the organization to optimize the patient experience," Dr. Hurtuk said. "I will provide examples of how our organization and practice has implemented some of these strategies with the hopes of improving the patient experience. We are hoping that our audience will walk away from our panel with a current understanding of the importance of patient experience in healthcare and will gain some ideas on how to implement some of the strategies in their own practices."
Panelists said they believe the session will inspire attendees to evaluate their own patient experience data to identify and prioritize areas for improvement, create a plan for implementing interventions for improvement and monitoring their data moving forward.