---
Don't Take Your Writing for Granted
Writing an effective grant proposal can mean the difference between getting funding and getting nothing.
---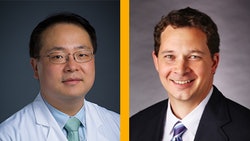 For young physicians just getting started in their research, getting funding from a grant can go a long way toward helping them continue that research. But the process is not as simple as just picking up the phone or emailing a request. It's a process that can be tedious at times. However, if it's done right, the rewards are well worth it.
Do-Yeon Cho, MD, Associate Professor of Otolaryngology-Head and Neck Surgery at the University of Alabama at Birmingham, said that there is a strong need for clinician-scientists to perform impactful and clinically relevant research. But because of constraints on time, opportunity and support, the number of clinician-scientists engaged in meaningful research is low right now. And that's something he believes can change if researchers know how to write effective grant proposals.
"Writing grants is a critical part of gaining funding for clinical scientists," he said. "It's a tedious process sometimes, but we're trying to help people understand what they can do differently the next time they write a proposal."
Dr. Cho has written plenty of grant proposals in his career—some successful and some not—and, along with Justin Turner, MD, PhD, Associate Professor of Otolaryngology-Head and Neck Surgery, and Associate Professor of Biomedical Engineering at Vanderbilt University Medical Center in Nashville, Tennessee, at Tuesday's session, "How to Write Effective Grant Proposals."
Dr. Cho said the session will be divided into two parts. The first part will focus on landing a career development award for those looking to further develop their career through research. A key part of this, Dr. Cho said, is building a mentoring committee.
"When you are developing your career, you have to have mentors," he said. "A lot of people think it's just one mentor, but it's not. You need multiple people to mentor you throughout your career."
The second part of the session will focus on developing competitive independent funding proposals, such as grants from the National Institutes of Health (NIH) for mid-career researchers.
But whatever level you are at in your career or your research, Dr. Cho said, the "aims page," a one-page outline of your research, is the most important part of the grant proposal.
"The specific aim section is the most vital part of the grant," he said. "It is central to your grant proposal. You must be able to convey trust and confidence (in yourself) while simultaneously convincing them that your work is important."
Attendees will also learn how to identify potential funding sources and how to communicate and build relationships with program officers from the NIH. And there will be plenty of time for questions as well.
"We're not always the experts," Dr. Cho said. "But we have been successful in getting funding, which just means we've worked hard to get that funding. Getting a successful grant allows you to do meaningful research; at the same time, it gives you an opportunity to promote your research and to develop new ideas."