---
Harnessing Your Inner Taskmaster
Using "short bursts" of available time may lighten your home life.
---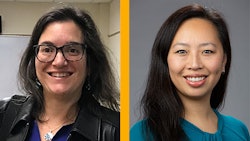 Planning ahead and taking advantage of a spare moment here and there can make all the difference in improving the balance between home and work. Co-moderators Eileen M. Raynor, MD, and Janet W. Lee, MD, will offer some little-known tips and good reminders during Wednesday's session, "Time Management Skills for Busy Practitioners."
Dr. Raynor, a head and neck surgeon with Duke Health in Durham, North Carolina, encourages providers to think outside the box when accomplishing more tasks during the workday, thereby freeing up more time in their personal lives.
"Most physicians work on charts or projects during their 'off duty' hours, creating extra stress at home with family and leading to burnout," said Dr. Raynor. "This session will help them find strategies to mitigate the extra burden of night/weekend work and enjoy more free time. For example, use short periods of downtime, such as when you're in the OR and waiting for the patient to be prepped. This is a good time to check your email or accomplish other small tasks that don't take a lot of bandwidth."
The real key, however, is planning ahead when possible. Dr. Raynor admits that being on call is not something physicians can easily reschedule. However, they can strategize meeting journal articles and presentation deadlines around family obligations. She suggests putting even the smallest task on the calendar to hold yourself accountable to the deadline. She also encourages "fudging" the deadline by moving it ahead a few days if it is reasonable to do so.
According to Dr. Raynor, research shows that physician stress leads to patient dissatisfaction and creates more conflict at home. Better time management can lead to happier, more productive practitioners.
Dr. Lee, an otolaryngologist with Duke Health, said the session will offer attendees an opportunity to analyze how they function during the workday and look for opportunities to complete tasks that can be done in "short bursts" in an effort to decrease "homework."
Dr. Lee, a first-time mom to a new baby, said big life changes in your personal life may also necessitate a shift in how you manage your time. In particular, you may have to employ new scheduling tools to make it all work.
"In my case, with a new baby, my husband and I must integrate our schedule with childcare and the baby's appointment coordination. It means our scheduling strategies must change too," Dr. Lee said. "We may have to do checklists, shared calendars, etc. Both are good for different tasks. Setting up rules with your partner for how you're going to schedule home and work can be helpful. Also, if something isn't working, adjust your plan."
The reality, Dr. Raynor said, is that women shoulder a disproportionate amount of the home schedule. Thus, planning ahead is even more important.