---
Business of Medicine Serves up BOG Hot Topics
Panel offers practical information on recruiting physicians, factors for evaluating private equity, and management practices.
---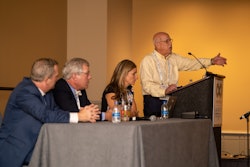 Physicians provide the bloodline for the success of every practice, noted Robert A. Glazer, MPA, CEO of ENT and Allergy Associates, during Sunday's presentation, sponsored by the Board of Governors (BOG). Every year new challenges regarding practice management emerge making it difficult to stay current with the various issues that arise in the business of medicine. The session, "BOG Hot Topics in Practice Management 2022: Recruitment, Practice Buyout, and Alternative Job," featured panelists who offered practical information on effectively recruiting physicians, essential factors to consider when evaluating private equity (PE), and management practices to improve patient satisfaction and physicians' work-life balance.
Building a successful practice stems from effectively recruiting and retaining physicians who would contribute to the practice's long-term growth. Mr. Glazer emphasized that recruiting remains, at its core, essentially about building an interpersonal relationship, regardless of the times and challenges. "I really think that this is a person-to-person relationship. And a person-to-person relationship starts when they are PGY2s; getting to know these candidates when they are just starting their training." It's better to start building relationships with potential recruits early to get them to understand what happens after training, so they start planning their careers taking into account that your practice will support their career and other personal goals. One of the ways Mr. Glazer's practice builds an early relationship with potential recruits is by organizing educational dinners.
The session moderator, Cristina Baldassari, MD, Professor in the Department of Otolaryngology-Head and Neck Surgery at Eastern Virginia Medical School, added that local resident societies can be a great resource for identifying and building relationships for recruiting. "A lot of residents attended your state society meetings," Dr. Baldassari said. "So, if you are trying to recruit residents and you want to meet some of the residents, attending those functions is a good way to meet some of those residents at an earlier point in their careers."
Gene G. Brown III, MD, a private practice otolaryngologist with Charleston ENT Association, LLC, in South Carolina,  provided insights into the benefits and downside of PE partnerships. "Private equity deals bring cash to organizations to invest back into the organization or to partners who are at a point in life and that's important to them," said Dr. Brown. "In some instances, it can improve your market position as your group is fortified with other management and other funds to do that with." A significant benefit of PE is the "second bite" provided by access to funding for innovation that makes the practice more profitable thereby yielding even greater returns when sold in the future.  Therefore, such deals can be favorable for physician-led practices with managing partners seeking an exit strategy or nearing retirement.
Lance A. Manning, MD, Managing Partner of the Ear, Nose, and Throat Centers of the Ozarks in Arkansas, shared some nontraditional management practices that physicians can use to reduce physician time commitment while improving quality care and optimizing patient satisfaction. Dr. Manning advocates for leveraging staff by ensuring everyone is working at the top of their scope of work. "Physicians must use physicians' time on patient care," he said. Delegating duties to the staff ensures the physician has significant time dedicated to patient care. Moreover, delegating tasks to staff helps them specialize and perform at their highest level. Consequently, this reduces the burden on the physician's time and improves efficiency.
Dr. Manning explained that batching similar tasks and procedures to be accomplished within the same time period also saves time and improves productivity. "Relying on technology and outsourcing is not an add-on expense when you are already at full capacity," he said. Outsourcing services and technology such as Re-gent SM to do quality reporting affords the physician ample time to be engaged with patients.