---
Getting the Encouragement You Need to Advance Your Career
Learn about the benefits of mentors, coaches, and sponsors in your career.
---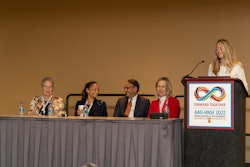 Mentoring, coaching, and sponsorship each have their own roles to play in the careers of otolaryngology professionals. Five otolaryngologists dissected the responsibilities and value of each during Monday's "Put Me in Coach: The Importance of Mentorship, Coaching, and Sponsorship."
 Claire M. Lawlor, MD, Assistant Professor of the Children's National Health System, moderated the panel of Carole R. Bradford, MD, MS, Immediate Past President of the AAO-HNS/F and Dean of The Ohio State University College of Medicine and the Vice President for Health Sciences at The Ohio State University Wexner Medical Center; Rahul Shah, MD, MBA, Senior Vice President of Children's National Health System; Dana M. Thompson, MD, MS, MBA, Chief of Pediatric Otolaryngology in the Department of Otolaryngology and Lauren D. Holinger, MD, Professor of Pediatric Otolaryngology and Division Head of Otolaryngology–Head and Neck Surgery at Lurie Children's Hospital; and Patti J. Ayars, executive and leadership coach for Turning Point Consulting. The session was inspired by the Women in Otolaryngology Leadership Development and Mentorship Committee. 
"Sponsorship is different from mentorship," Dr. Bradford said. "Mentors talk with you; sponsors talk about you. Mentors are people you look up to no matter what their role might be in an organization. A sponsor in contrast must be a senior leader with influence." 
She said a sponsor will give their protégé exposure to people who can help their career as well as protect them from negative publicity.
 Dr. Bradford insisted that sponsorship does not replace mentoring. A sponsor is someone who supports you for the express purpose of promotion, advancement, and increased professional visibility. The sponsor must leverage their own status, access, and reputation to further your goals and development. The sponsor also can connect you to opportunities and other influential professionals to further expand the scope of opportunities. 
Dr. Bradford said you have to "earn" the investment that a sponsor has to make. She encouraged attendees to reach out to potential sponsors and make your career objectives known. Ultimately, and most importantly, you must be authentic and reliable in your requests. 
She also explained why more senior otolaryngologists should consider being a sponsor. Besides doing it for the satisfaction of helping someone achieve their career goals, she said you will also gain a window into the mindset, challenges, pressures, lifestyle, talents, and skills of a different generational workforce. She also pointed out that the individuals you sponsor "will become part of your legacy." 
Dr. Shah pointed to his football idol Tom Brady to illustrate that someone seemingly at the top of his game still needs coaches. "We are not experts outside our domain," he said, saying Brady still travels to see his high school coach in San Diego to work on nuances of his game. 
Coaches can provide insights, best practices, and strategies that may not be readily apparent to you, Dr. Shah said. They can serve as a resource and even a confidant. 
Dr. Shah pointed to inaugural experience with a professional coach in the early 1990s when he was first named a medical director because, "I did not know what I was doing." Since that first coach, Dr. Shah has continued working with coaches to help enrich areas he would like to improve. In fact, he shared some practical advice he recently received from his current coach. First, the coach observed that Dr. Shah often closes his eyes when he is thinking. Dr. Shah agreed and said he thought it showed his sincerity. The coach said, "Stop it. It's creepy." The second example the coach cited was that he often used people's names when talking to them. The coach advised him to cut back on that practice because "they already know their names." 
Dr. Shah encouraged the audience to be aware when the coach is supplied by their organization. He said you should follow the money and make certain that coach has your best interests versus the best interests of the institution. 
Professional coach Patti Ayars provided tips for finding and employing a coach. 
"Coaches help you get unstuck. Ask colleagues about their coach experiences and recommendations," she said. 
A good coach doesn't have to be costly, she said. If you are specific about what you want coached in, ask colleagues for their recommendations, and find someone who will hold you accountable, it will be worth every penny, she said. 
Underrepresented individuals don't have as clear of a path with sponsors and mentors, according to Dr. Thompson, who presented a sobering view of the current state of inclusivity in mentoring and sponsorship in otolaryngology. Citing the low percentages of representation in healthcare, it is challenging for underrepresented individuals to see people like themselves and who understand their lives and experiences, she said. 
"We gravitate toward people like ourselves in appearance, beliefs, and background," she said. 
In the case of underrepresented individuals, it can be difficult to reach their full potential because in a mentor you want someone who looks like you and who can share your lived experiences. You can doubt you will be able to get a sponsor because you do not believe you are "part of the club," she said. The same applies with coaches. "How can someone coach me if you do not know how I feel or what experiences I have had and how that impacts my work or performance," you might ask. 
She urged attendees to advocate for inclusive mentoring, coaching, and sponsoring by recognizing the challenges for underrepresented individuals, especially as they face experience bias, code switching, emotional tax, and minority tax. 
She defined each. 
Experience Bias: Microaggressions aimed at lower-level staffers or underrepresented individuals, such as asking an Asian employee if she speaks English or asking a nurse to find a doctor. 
Code Switching: Adjusting one's style of speech, appearance, behavior, and expression in ways that will optimize the comfort of others in exchange for fair treatment, quality service, and employment opportunities. "They don't want to lose their authenticity," said Dr. Thompson. 
Emotional Tax: The state of being on guard, consciously preparing to deal with potential bias, discrimination, negative assumption, or the weight of the world to represent their race. 
Minority Tax: The tax of extra responsibilities placed on underrepresented individual faculty in the name of efforts to achieve diversity. Unfortunately, it is an opportunity cost to other career-advancing activity, work, and personal time. Dr. Thompson said it is often not recognized or rewarded and often takes a toll on the individual. 
Dr. Thompson said bias training and education must involve intentional efforts in promotion, retention, and psychological safety, and make a commitment to diverse faculty, senior leadership, and board members. She encouraged providing psychological safety as a culture, absolute intolerance of bias acts, and compassionate and real-time feedback of any derailing perceptions.