---
2022 Scientific Poster Winners
Find out which Posters received special recognition.
---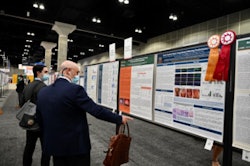 Scientific Posters are a key component to the cutting-edge research presented at the Annual Meeting. These visual displays detail the latest advancements in otolaryngology research and allow the viewers the opportunity to appraise and assimilate scientific evidence for improved patient care practices. The Annual Meeting Program Committee recognize the following authors for their Scientific Poster presentations during the 2022 Annual Meeting. All Posters are available to view online at https://www.eventscribe.net/2022/aaohnsf22amposters/index.asp?launcher=1.
BEST IN SHOW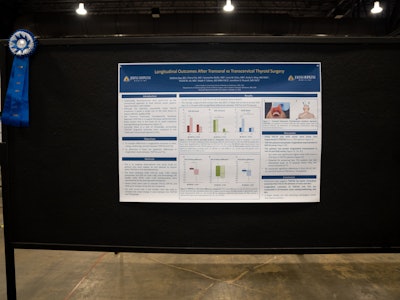 Endocrine Surgery-(SP064)
Longitudinal Outcomes after Transoral versus Open Thyroid Surgery
Stefanie Seo, MA, Cheryl Pai, Lena W. Chen, Andy S. Ding, Samantha Wolfe, MD, Khalid Ali, Ralph P. Tufano, MD, MBA, Jonathon O. Russell, MD
BEST BASIC SCIENCE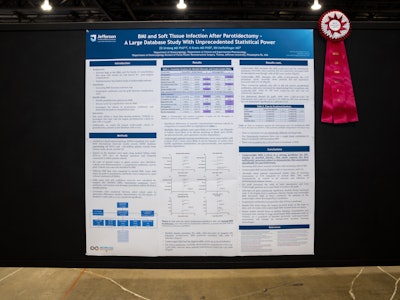 FPRS-(SP079)
Body Mass Index and Soft Tissue Infection After Parotidectomy: A Large Database Study With
Unprecedented Statistical Power
Zachary Urdang, MD, PhD, Ryan Heffelfinger, MD
HONORABLE MENTIONS

Business of Medicine- (SP001)
3D Printing an Otologic Curette: A Technical Assessment, Cost Analysis, and Primer for Clinical Integration
Kelly Landeen, MD, Miriam Smetak, MD, Paul Mallory, MD, Robert Labadie, MD
Endocrinology- (SP067)
Preoperative Vitamin D Levels Effect on Length of Stay in Postoperative Thyroidectomy Patients
James Metkus, MD
FPRS- (SP093)
Implementation of a Simulation Model for Microsurgery in an Academic Otolaryngology Program
Kristen A. Echanique, MD, Abdulrahman Almalouhi, Minsoo Kim, PhD, Peter S. Han, MD, Keith Blackwell, MD, Rhorie PR Kerr, MD, Vishad Nabili, MD, Irene A. Kim, MD, MBA
Head and Neck- (SP128)
Circumferential Peripheral Margins in Head and Neck Cutaneous Melanoma
Hyunseo Jung, MD, MS
Laryngology- (SP254)
Effect of COVID-19 on the Incidence of Postintubation Laryngeal Lesions
Madison Buras, MD, Nicole Griggs
Otology/Neurotology- (SP285)
Effect of Medical Therapy on Progression of Hearing Loss in Meniere's Disease: A Systematic Review
Adam Thompson-Harvey, MD, Madeline Pyle, MD, Erin Harvey, MD, Michael Harris, MD
Personal and Professional Development- (SP477)
Should Cross-specialty Applying Among Otolaryngology Applicants Be the New Normal?
Deanne King, MD, Sam Reyes, C.W. David Chang, MD
Pediatric- (SP446)
Safety of Osia® (CochlearTM Ltd) Placement for Children Under the Age of 12 Years: A Multi-institutional Review
Gabriela Heslop, MD, Lauren A. Pinzas, Yi-Chun Carol Liu, MD, Sarah Gitomer, MD
PSQI- (SP351)
Learning to Drill a "MASTOID": A Surgical Mnemonic for Review of Preoperative Temporal Bone Computed Tomography Scans
Garrett G. Casale, MD, Karl W. Doerfer, MD, William Azkoul, MD
Rhinology/Allergy- (SP518)
Reconstruction After Endoscopic Pituitary Tumor Surgery: A Comparative Technique Study
Hawa Ali, MD, Garret W. Choby, MD, Jamie J. Van Gompel, MD, Maria Peris-Celda, MD, PhD, Carlos D. Pinheiro Neto, MD, PhD
Sleep- (SP566)
Using Wearable Consumer Technology to Assess Sleep in OSA
Yi Cai, MD, Chloe Cheng, James Zheng, Jolie Chang, MD