---
SIM Tank Results
Congratulations to the 2023 SIM Tank winners!
---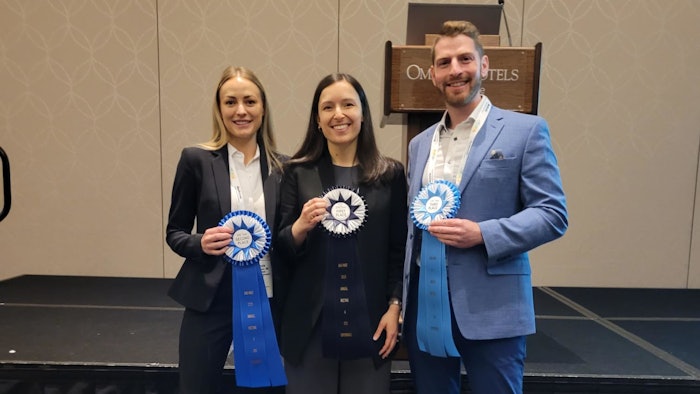 The 2023 SIM Tank winners were announced Monday, October 3.
Coming in at first place was Laura-Elisabeth Gosselin, MD. Mackenzie Latour, MD, took second place. And Avi Shaw, DO, claimed third place.  
The AAO-HNSF would like to acknowledge and thank the following individuals for participating in the 2023 Call for Simulation. Each project showed innovation and creativity to advance training and practice in the field of otolaryngology.
2023 SIMULATION SHOWCASE
A Low-Cost Telescope Augmented by 3D Printing for Rigid Endoscope Simulation | Regan C. Manayan, MD, Beth Israel Deaconess Medical Center, Department of Otolaryngology-Head & Neck Surgery, Harvard Medical School, Boston, Massachusetts
A Low-Cost, High-Fidelity Model to Simulate Extracapsular Plane Dissection in Tonsillectomy | William Pellegrini, MD, and Michael Platt, MD, Boston University School of Medicine
A Smart Cochlear 3D-Printed Model with Custom Software to Train Otolaryngologists | Avi Shaw, DO, Mercy Bon Secours
A Three-Dimensional Printed Laryngoscope Holder for Continuous Laryngoscopy During Exercise | Maxwell Newby, MD, Seattle Children's Hospital and the University of Washington
An Ex-Vivo Animal Model for Mastering Surgical Skills in Endoscopic Transtemporal Facial Nerve Decompression | Sapna Ramkrishna Parab, MBBS, MS, DNB, Sushrut Ent Hospital and Dr. Khan's Research Center, Talegaon Dabhade, Maharashtra India
Building Phonomicrosurgical Skills through Simulation: An Easy Model for Operating Room Downtime | Julia Thomas, MD, MSPH, University of Chicago
Development and Validation of a Novel Human Fixed Cadaveric Model Reproducing Cerebrospinal Fluid Circulation for Training in Endoscopic Skull Base Surgery | Laura-Elisabeth Gosselin, MD, Université Laval, Quebec City, Quebec, Canada
Development and Validity of an Entirely Three-Dimensionally Printed Microlaryngeal Surgery Simulator | Nazaneen Grant, MD, Medstar Georgetown University Hospital
Development of a Peroral Vocal Fold Injection Simulator | Brian Reilly, MD, Temple University Hospital
Going Back to the Basics: A Low-Cost, High-Fidelity Training Model for Flexible Nasopharyngoscopy | Andrew Y. Lee, Geisel School of Medicine at Dartmouth College
Impacting Resident Training: A Novel and Cost-Effective Tongue-Tie Model | Rachel Karras, MD, SIU School of Medicine
Improving Spatial Anatomy Awareness of Sinonasal and Skull Base Structures Using Immersive Technology | David Ahmadian, BS, University of Arizona, College of Medicine – Tucson
Real Cultural Intelligence: Embedding DEI into the Design of Simulation Education (AI) | Steven Sims, MD, Chicago Institute for Voice Care
Scaling Portable Temporal Bone Laboratories | Michelle Higgins, MD, PhD, AugmENT, LLC
The Role of Neurocognitive Testing in Predicting Surgical Performance | Carl Snyderman, MD, MBA, University of Pittsburgh School of Medicine
Validation of a 3D-Printed Silicone Laryngeal Model for Simulation of Laryngeal Microsurgery | Benjamin T. Ostrander, MD, MSE, University of California – San Diego
Virtually Augmented Surgical Navigation in FESS Simulation Training: A Prospective Trial of Repeated Measures | Michael Yim, MD, LSU Health Shreveport