---
SIM Tank Results
Congratulations to the 2022 SIM Tank winners!
---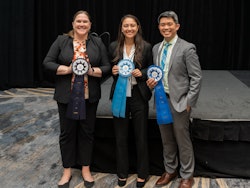 The 2022 SIM Tank winners were announced Monday evening, September 12. 
Coming in at first place was Clare Richardson, MD, for "3-D Printed Tracheal Models for Multidisciplinary Advanced Surgical Planning of Complex Airway Surgery."
Ernest D. Gomez, MD, MTR, was the lead for the second-place project, titled "Development of Low-Cost Virtual Reality Teaching Videos for Head and Neck Surgical Anatomy."
Julianna Kostas, was the lead for the project placing third, which was "An Open-Source, Low-Cost 3D-Printed Simulator for Thyroplasty Training."
The AAO-HNSF would like to acknowledge and thank the following individuals for participating in the 2022 Call for Simulation. Each project showed innovation and creativity to advance training and practice in the field of otolaryngology.
SIMULATION SHOWCASE
3D Printed Models To Accelerate Resident Surgical Learning Curve For Standard Endoscopic Sinus Surgery Techniques
Presenter: Jumah G. Ahmad, MD; Co-Authors: Alexander J. Citardi, Amber U. Luong, MD, PhD; Principal investigator: William C. Yao, MD, University of Texas McGovern Medical School at Houston
A Low-cost Magnetic Peritonsillar Simulation Trainer
Benjamin R. Johnson, MD; Azmi Marouf, MD (1); Sarah Mowry, MD, (2)
1.Case Western Reserve School of Medicine, Cleveland, Department of Otolaryngology- Head and Neck Surgery 2.University Hospitals Cleveland Medical Center, Cleveland, Ohio
Annual Temporal Bone Dissection Courses for Medical Students
Michelle Higgins, MD, PhD (1), David Barrs, MD (2), Nicole Callisen (3), Peter Weisskopf, MD (2) 
1. Mayo Clinic Alix School of Medicine 2. Department of Otolaryngology-Head and Neck Surgery 3. Center for Procedural Innovation, Mayo Clinic, Scottsdale/Phoenix, AZ
Creating A Novel Virtual Reality Surgical Microscope Within Surgisim, A Surgical Simulator
Justin Lui, MD, FRCSC (1); Arthur Volpato Batista, BSc, MSc,(1); Maddie de Lotbiniere, MD (1) University of Calgary Trishia El Chemaly, BEng, MSc, (2)
1.University of Calgary 2.Stanford University
Examining The Utility of A Photorealistic Virtual Ear In Otologic Education
Lead Presenter: Dongho Shin, MD (1); Arthur V. Batista, MSc (2);  Christopher M. Bell MD, MPT (3); Ella R.M. Koonar MD, MSc(3); Joseph M. Chen MD, FRCSC (1); Sonny Chan, PhD (5) ; Joseph C. Dort MD, MPH, FRCSC (2,3); Corresponding author: Justin T. Lui MD, FRCSC (2,3)
1.Department of Otolaryngology–Head and Neck Surgery, University of Toronto, Toronto, Canada
2.Ohlson Research Initiative, Arnie Charbonneau Cancer Institute, University of Calgary, Calgary, Canada
3.Section of Otolaryngology–Head & Neck Surgery, Department of Surgery, University of Calgary, Calgary, Canada
4.Faculty of Medicine, Cumming School of Medicine, University of Calgary, Calgary, Canada
5.Department of Computer Sciences, University of Calgary, Calgary, Alberta, Canada
Identifying Latent Safety Threats Using an In Situ Simulation-Based Adult Tracheostomy Care Quality Improvement Model
Brooke Hassan, BA (1); Co-authors: Zachary Kelly, MD (1); Daniel Li, MD (1); Elliot Schiff, BA (1); Marc- Mina Tawfik, BS (1); Maneesha Bangar, MD (1); Bradley Schiff, MD (1,2); Christina J. Yang, MD (1,2) 
1.Albert Einstein College of Medicine 2.Montefiore Medical Center, Department of Otorhinolaryngology- Head and Neck Surgery
Novel Low-Cost 3D Printed Microlaryngeal Surgery Trainer
Lead presenter: Ryan Lau, MD; Taylor G Lackey, MD; Daniel S. Fink, MD; Scott Mann, MD
All authors are affiliated with the University of Colorado School of Medicine, Aurora CO
Preoperative Computer Simulation in Rhinoplasty Using Previous Postoperative Images
Sara Rahavi-Ezabadi, MD-MPH (1); Amin Amali, MD (1); *Mehdi Bashiri-Bawil, MS (2); Mohammad Sadeghi, MD (1); Reza A. Zoroofi, PhD (2)
1. Otorhinolaryngology Head and Neck Surgery Department, Otorhinolaryngology Research Center, Tehran University of Medical Sciences, Tehran, Iran
2. Biomedical Engineering Group, Department of Electrical and Computer Engineering, Engineering College, University of Tehran, Tehran
Portable High-Fidelity and Versatile Simulator for Transoral Laryngeal Microsurgery
Claudio Sampieri, MD; Marta Filauro, MD; Alberto Vallin, MD; Francesco Mora, MD; Giorgio Peretti, MD, Unit of Otolaryngology - Head and Neck Surgery, IRCCS San Martino Hospital, University of Genova, Italy
Systemic Factors in Simulation Training: Lessons Learned from a Pediatric Emergency Otolaryngology Simulation
Vivianne Landry, Medical Student, University of Montreal
The Harper Safety Suture Kit: Innovative Stitch-able Fun for the Next Generation!
Brandon Neal, BS (1); Ysehak Wondwossen, BSA (1); Presenter: LT Harvey Harper Jr, BS, MS (1); Michael Orestes, MD, FACS (2) 
1.School of Medicine, Uniformed Services University of the Health Sciences, Bethesda, MD 2.Department of Surgery, Uniformed Services University of the Health Science, Bethesda, MD
Use of 3-Dimensional-Printed Head and Neck Models for Training of Flexible Nasopharyngoscopy for Residents of Multiple Disciplines
Kilee Bayne, DO; Michael Pascolini, MD; Todd Brickman, MD; Eugene Potesta Jr, MD
All authors are affiliated with Mercy Health, Department of Otolaryngology Head and Neck Surgery
Using a Manufactured Model to Practice Maxillomandibular Fixation
Jacqueline Tucker, BS; Jessyka G. Lighthall, MD; Neerav Goyal, MD, MPH, FACS
All authors are affiliated with the Penn State Milton S. Hershey Medical Center