---
COVID Implications for Otolaryngology
Panel explores what has been learned since COVID-19's emergence.
---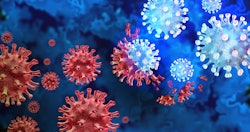 The COVID-19 pandemic has been responsible for nearly 6.5 million deaths worldwide, of which nearly one-sixth have been in the United States. Because of the rapid increase in the incidence of cases since 2020, there have been predictable gaps in evidence-based literature on treatment in the otolaryngologic space. Tuesday's session "COVID-19 Implications on Otolaryngology" explored what has been learned. Although a great number of papers have been published, reliable data is still lacking, with a relatively small body of great evidence-based research.
Raluca Gray, MD, Assistant Professor at the University of Minnesota, moderated the panel featuring Michael J. Brenner, MD, Associate Professor at the University of Michigan, Jonathan B. Overdevest, MD, PhD, Assistant Professor at Columbia University, and Alexander H. Gelbard, MD, Associate Professor at Vanderbilt University. Together they explored the impact of COVID-19 on treatment protocols and discussed their experiences of patient care through the pandemic. 
The panel was evenly split on whether COVID dramatically changed their office approaches especially with aerosol use, some saying little had changed. They defined aerosols and the particles suspended in air from very small to large, suggesting they could contain viruses, and the higher the airflow, the smaller the size of the aerosol: 
Less than 5 μm can remain suspended for up to three hours, roughly 13 feet away
Less than or equal to 20 μm can deposit in the lower respiratory tract
Greater than or equal to 20 μm can deposit in the upper respiratory tract, referred to as a droplet 
"Initially, we were very vigilant but over time things have slacked off. Masking is typical, so no worries for endoscopy," said Dr. Overdevest. 
Early in the pandemic, Dr. Brenner said the question was, "Can we safely do a tracheostomy? At first, we thought we, the doctors, were at the greatest risk. But in the OR, we have the best PPE. We found that the staff treating patients afterward had the greatest exposure. It became really obvious that the risk was to the 'team,' not just to the doctors," he said. 
Dr. Overdevest said scoping across patients can yield a wide variable of reactions. He said his office uses a flexible pediatric scope because it is tolerated better across patients and provides a good image quality. 
He discussed the impact of COVID on rhinology. "We used to use full surgical attire and made a small incision in the patient's masks to minimize any exposure." Over time and after the wider availability of vaccines, they backed off that substantially, he said, and now rely on masks and gloves. 
He pointed to "Two Years of COVID-19—Smell Is Still Stealing the Spotlight on the Rhinology Stage,"1 published in Rhinology, which rightly suggests that smell dysfunction is at the heart of rhinology care during the pandemic.
According to the panel, there is a small body of evidence regarding results after prolonged intubation from COVID-19. 
"COVID probably makes things a little bit worse, but it all goes back to the actual treatment. The larynx takes the brunt of the pressure from intubation," said Dr. Gelbard. "Mucosal injury is the biggest concern following intubation, even months afterward," he said. 
He pointed to a recent study published in Laryngoscope, titled "Estimations of Laryngotracheal Stenosis after Mechanical Ventilation: A Cross Sectional Analysis"2 as a good reference. 
He said it is commonly recognized that patients with diabetes are the most at risk of being intubated due to COVID. It is not a leap, he said, to know they also are the largest population to suffer from mucosal injury and scarring. 
Wrapping up, the speakers pointed to the vaccination argument that still is at the heart of some patients' risk factors. Dr. Brenner said it is a balance of patients who were fixated on the possible risk coming from a "new" vaccine pitted against the stark implications of not getting a vaccine. 
"It has become a pandemic of the unvaccinated," he said. When encountering these patients, Dr. Brenner said he finds the approach of humble inquiry as the best. 
The panel pointed with concern at the recent Assembly Bill AB2098, in the California Legislature, highlighting COVID-19, which would amend the definition of unprofessional conduct to prohibit doctors from giving patients "false or misleading information" about the coronavirus, including its risks, prevention, and treatment, and about the development, safety, and effectiveness of COVID vaccines. 
It has not been signed by the governor. 
"Lack of information is different from misinformation. There are a lot of things we do not have the data to draw substantial conclusions," Dr. Brenner concluded.
__________ 
1. Hopkins C. Two years of COVID-19 â€" smell is still stealing the spotlight on the rhinology stage. Rhinology. 2022 Apr 1;60(2):81. doi: 10.4193/Rhin22.902. PMID: 35368049.
2. Johnson RF, Bradshaw S, Jaffal H, Chorney SR. Estimations of Laryngotracheal Stenosis After Mechanical Ventilation: A Cross-Sectional Analysis. Laryngoscope. 2022 Sep;132(9):1723-1728. doi: 10.1002/lary.29866. Epub 2021 Sep 20. PMID: 34542167.