---
Reflections on the Run
So much to see, do, and experience at #OTOMTG23.
---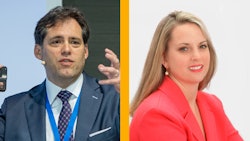 Cecelia Damask, DO, AAO-HNSF Annual Meeting Program Coordinator-elect, and I want to extend a very warm welcome to Music City and to #OTOMTG23. It hardly seems possible that a year has gone by since Jeffrey C. Liu, MD, invited me to run the Rocky steps with him in Philadelphia. That jog turned into a year-long personal quest to take better care of myself, resulting in me joining my colleagues for Sunday morning's OTOs on the Run, the guided three-mile run around downtown Nashville. Besides breathing in the fresh Tennessee air, it was great to see colleagues and to catch up. If you get a chance, join us Monday morning for another OTOs on the Run or yoga.
This morning, I was energized as I walked around the convention center and saw our community back together again. This meeting once again proves the Academy is more than some nebulous concept; it is defined by the people at your side. The sense of community and the joy of this community has never been greater!
The Opening Ceremony was an inspiring reflection of the compassionate excellence we demonstrate in patient care while also addressing a specific challenge to create a community of true equity. I hope that conversation continues throughout this meeting and generates creative ideas for next year's Care Equity Quality and Safety Track in Miami, Florida.
There was an excellent turnout for the CME ENThusiast track, and I will be excited to see that continue with CME every hour on the hour.
There are so many terrific events, sessions, and opportunities on tap for Monday. Here are just a few that Dr. Damask and I would like to recommend:
The WIO General Assembly (11:45 am, Ballroom A2) where we reflect on the John Conley, MD Lecture on Medical Ethics.
Monday's inaugural launch of the Crucial Conversation platform (9:15 am, Ballroom B1), with Crucial Conversations: Examining the Relationship Between Otolaryngology Training and Our Field as a Whole: How Are We Doing? where Albert L. Merati, MD, will lead a conversation with a diverse group of leaders about otolaryngology education and the sometimes-conflicting fiduciary responsibility of supporting our training programs.
The Great Debates continue on Monday with the first cross-specialty debate between facial plastic and reconstructive surgery and rhinology, among others.
The Simulation Center is now open with courses running at the Omni throughout the day. On Monday, check out "A Puzzling Night on Call: An Otolaryngology Escape Room Experience?" and "3D-Printing in Otolaryngology Practice: Where Simulation Meets Patient Care."
The popular "Tap Tap: Endonasal and Percutaneous Nasal Osteotomy Techniques on 3D Printed Models" (1:45 pm, Broadway ABC in the Omni) will be back for its second year, as well as the popular "Oral Appliance Therapy Made Simple in Your Comprehensive Sleep Practice." There will be opportunities to learn about 3D-printing, mucosal lasers, and how to give surgical feedback to our residents.
The Otolaryngology Private Practice Section, the former Private Practice Study Group (PPSG), is meeting at 4:45 pm in the Davidson Ballroom B.
The Scientific Posters and the Career Fair are other can't miss events, just to name a few.
 Once you take in all that Monday has to offer, be sure to make time to catch up with your colleagues and just breath.
 See you again tomorrow!
 Daniel C. Chelius, Jr., MD, and Cecelia Damask, DO