---
Inventors, Innovators Strut Their Stuff at First ENTrepreneur Faceoff
Faceoff celebrates innovations and spark new ideas.
---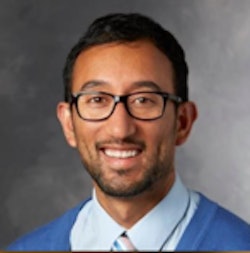 In addition to everything else they do, otolaryngologists are often idea innovators and early adopters, coming up with new ways, new tools, and new drugs to better help their patients and their colleagues alike.
A first-time event at this year's Annual Meeting will give these inventors a chance to show what they—and their inventions—can do. The ENTrepreneur Faceoff is sponsored by the AAO-HNSMedical Device and Drugs Committee and will feature 11 finalists hand-picked by the committee for their unique ideas.
Peter Santa Maria, MD, PhD, associate professor of otology and neurotology at Stanford Ear Institute, is the Chair of the Medical Device and Drugs Committee and said the idea behind the Faceoff was to create kind of a trade show or science fair where each team will have a booth setup to demonstrate their innovations.
"Some are medical devices with a prototype of the devices," he said. "Others are more digital innovations like artificial intelligence that will have screens and monitors on display. While others are drugs that will have information about the drugs on posters and other displays. The emphasis is to feel and touch these amazing innovations."
Dr. Santa Maria said the committee deals with a lot of new devices and drugs that are brought to the Academy from physicians at all different levels. The Faceoff was designed to help showcase and accelerate those ideas.
"We asked ourselves if there was a way that we can help other physician innovators get some airtime and get some feedback," he said. "Where can we get access to industry connections or networks to get advice?"
From those questions, the ENTrepreneur Faceoff was born. The only rule was that each innovation or idea could not yet be available for commercial sale. Within the group of 11 finalists, the committee members have voted on the top three innovations, and those teams will be giving live pitches to a panel of judges at the event. The judges will then evaluate those three finalists and choose the Academy's top innovator.
In addition to the judge's picks, there will also be a "People's Choice Award," in which attendees will interact with all the teams and then be allowed to vote for their favorite.
Attendees will also be able to take part in a "fireside chat" to hear from the panel of judges who have each built their careers around innovation in otolaryngology-head and neck surgery. There will be plenty of opportunities to network and pick up tips on how you can get started with your own innovations in the specialty and potentially get those ideas to market.
Dr. Santa Maria said the concept behind the event is to celebrate innovations and spark new ideas.
"We want it to be an event that covers everyone's spectrum of innovation," he said. "People should come whether they are just interested in seeing what is new or maybe to spark some of their own ideas. We want it to be an opportunity to get together and share ideas."
Visit the Annual Meeting & OTO Experience Meeting Daily for more articles.