---
Cotton-Fitton Lecture Brings New Views to Otolaryngology
Perspective is everything.
---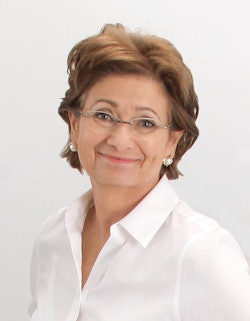 Perspective and point of view are paramount for otolaryngologists. A shift of position even slightly, inspection of an anatomical feature from a slightly different angle and what may have looked to be perfectly normal tissue is revealed to harbor a malignancy. Day-to-day life practice is no different. A slight shift in perspective can transform the perfectly normal into something less than ideal.
Perspective is everything, said Ellen M. Friedman, MD, who will deliver the Cotton-Fitton Endowed Lecture in Pediatric Otolaryngology at 8:45 am (PT), Tuesday, October 5. From the perspective of a medical student, she was attracted to otolaryngology because of the professional colleagues who treated each other well, practiced cutting-edge medicine with compassion, worked hard, and made a real difference in their patients' lives.
"When I went into otolaryngology, I was so naïve. I didn't even notice there weren't any women in otolaryngology, even though it was essentially a completely male-driven field," said Dr. Friedman, now director of the Center for Professionalism in Medicine and professor of otolaryngology at the Baylor College of Medicine in Houston, Texas. "I'm sure that most otolaryngologists think that we don't have bias or gender problems in our profession. The truth is, we had gender bias when I entered the field and though things have improved significantly, we continue to have some lingering issues."
It all goes back to perspective, she said. So does the title of her lecture, "What You See Depends on Where You Stand." Dr. Friedman will discuss her own journey from naïve newcomer to seasoned clinician and effective leader.  
Dr. Friedman's presentation will explore her personal experiences as a woman in medical school, residency training, and as an attending physician. She enthusiastically celebrates her career choice and will share her perspective about the positive changes that have occurred in the field over time.
Dr. Friedman said otolaryngologists, like everyone else, tend not to notice their biases because they are learned at an early age.  For most clinicians, professional habits have more to do with early training and mimicking the behavior of mentors than any conscious decisions.
Some of those unconscious preferences make little difference in practice. However, other preferences, such as assigning greater credibility to some groups of people over others, can have career-changing effects. Because men and women are exposed to different cultural training, expectations, and behavioral norms, men and women come to otolaryngology with different mixes of attitudes, approaches, and skills.
The profession needs all those attitudes, approaches, and skills at the table, Dr. Friedman said, not only the male set, not only the female set. Gender equality in otolaryngology is not an exercise designed to meet equal opportunity goals and mandates, nor to set equity examples for other specialties. Equality is a practical approach to encourage and foster advances in the practice of otolaryngology with the explicit goal of improving patient care.
"Unless we hear everyone's voice, we are missing out on opportunities to learn, to grow, to discover, and develop innovations, new ways to practice, new approaches, maybe even new solutions," Dr. Friedman said. "More brains at the table, more voices, and more perspectives all enrich the decision-making process. When you broaden the perspective, you can develop more nuanced and more effective decisions. If we are able to shift where we stand just a bit, what we see may change dramatically … and the new view likely will be better"