---
Hall of Distinction Panel Tackles Past-Future Question
How does the past inform the future?
---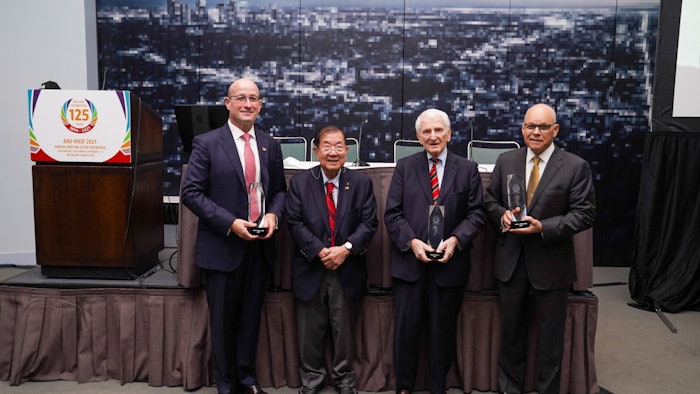 Carol R. Bradford, MD, MD, AAO-HNS/F President, welcomed six Hall of Distinction inductees to a panel discussion Tuesday afternoon. She challenged the inductees to answer the question: How does the past inform the future of otolaryngology?
The elite panel featured M. Jennifer Derebery, MD, K.J. Lee, MD, Eugene N. Myers, MD, FRCS Edin (Hon), James L. Netterville, MD, Gavin Setzen, MD, and Gayle E. Woodson, MD, who took turns providing their perspectives of the past-future question. Dr. Derebery and Dr. Woodson joined the panel virtually via a prerecorded message.
Dr. Lee said it is essential to take the past with a discerning mind while remaining careful using it in the future. He listed a number of efforts from the past, including private equity investment in practices, single tax number, and moving into digital. In particular, he praised the Academy for requiring the EVP position to be filled by an otolaryngologist. He encouraged the Academy to carry that into the future.
Dr. Myers pointed to inviting international membership in the Academy. The rollout of international membership yielded many benefits, he said, including the development of the International Advisory Board, creation of the International Corresponding Societies, and publication of international article submissions in the AAO-HNSF journal.
Dr. Netterville reflected on his career and how he stood on the shoulders of many brilliant otolaryngologists and benefited from their mistakes. He expressed his gratitude for the wisdom of others.
Dr. Setzen looked to the heroes, mentors, and leaders of the past and the collective importance of supporting each other in the future in research, education, and advocacy. He cheered on "the one ENT family," and like family, he said we must continue to support each other, collaborate, and continue to mentor and develop future leaders.
Dr. Derebery encouraged members of the specialty not to lose the ability to innovate in favor of RVUs, billing, and collecting. She also advocated for fellow colleagues to seek better work-life balance in the future.
Dr. Woodson discussed how the past "influences" as well as "informs" the future. She said it is essential that otolaryngologists do not ignore mistakes from the past and to remain mindful of introducing any bias to what happened in the move into the future.
The panel discussion was followed by  the presentation of the Hall of Distinction award to the recipients and a reception that included a book signing of the Legacy of Excellence commemorative book by the Past Presidents in attendance.