---
SIM Tank Results
Congratulations to the 2021 SIM Tank winners!
---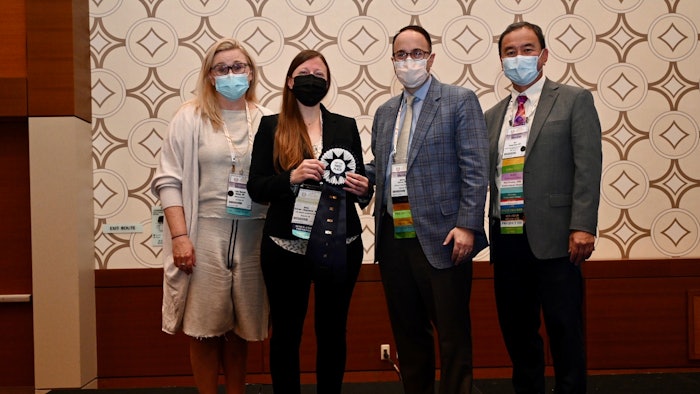 The 2021 SIM Tank winners were announced Monday evening, October 4.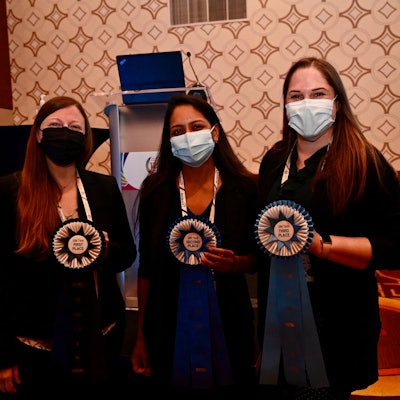 Coming in at first place was Alexis Graham-Stephenson, MD, for "Validation of a Novel Surgical Simulator for Thyroidectomy."

Sadia T. Ahmed, MD, was the lead for the second place project, titled "Sustainability of an In-situ Simulation-based Pediatric Tracheostomy Care Quality Improvement Program."

Clare Richardson, MD, was the lead for the project placing third, which was "A 3D Printed Laryngeal Suturing Simulator for Endoscopic Laryngeal Cleft Repair."
The AAO-HNSF would like to acknowledge and thank the following individuals for participating in the 2021 Call for Simulation. Each project showed innovation and creativity to advance training and practice in the field of otolaryngology.
A 3D Printed Laryngeal Suturing Simulator for Endoscopic Laryngeal Cleft Repair
(Lead) Clare Richardson, MD, Seattle Children's Hospital/University of Washington; David Zopf, MD, C.S. Mott Children's Hospital/ University of Michigan; Adam Van Horn, MD, C.S. Mott Children's Hospital/ University of Michigan; Allison Powell, MD, University of Michigan; Kathryn Cohen, MD, University of Michigan; Zahara Nourmohammadi, PhD, University of Michigan; Kaalan Johnson, MD, Seattle Children's Hospital/ University of Washington 
A Surgical Simulator for Microlaryngoscopy and Laryngeal Tumor Resection Using Porcine and Synthetic Larynges
Sara Bressler, MD; Michael Dunham, MD; Associate Professor, Pediatric Otolaryngology; Lacey Adkins, MD; Assistant Professor, Laryngology/Care of the Professional Voice Louisiana State University Department of Otolaryngology Head and Neck Surgery 
Advanced Emergency Airway Course for Otolaryngology Residents
Lead Presenter/Author: Brandon Kamrava, MD, (Department of Otolaryngology at University of Miami Hospital); Co-Author: David Eleff, MD  (Department of Otolaryngology at University of Miami Hospital;  Co-Author: Torin P. Thielhelm, BS (Miller School of Medicine at University of Miami); Co-Author: Carly Misztal, BS  (Miller School of Medicine at University of Miami); Co-Author: David Rosow, MD  (Department of Otolaryngology at University of Miami Hospital); Co-Author: Leonardo Torres, MD  (Department of Otolaryngology at University of Miami Hospital); Co-Author: Christine D'Aguillo, MD  (Department of Otolaryngology at University of Miami Hospital) 
Comparison of Aerosol Box and Draping for Microlaryngoscopy in COVID-19 Simulations
Julian Martinez, MD 
Cricothyroid and False Tract Simulators Using Corrugated Dishwasher Hose
Chelsea Hamill, MD, University Hospitals/Case Western Reserve, Department of Otolaryngology; N. Scott Howard, MD, University Hospitals/Case Western Reserve, Department of Otolaryngology
Development and Assessment of a Low-Cost Model to Simulate Tracheal Resection
Kyle C. Purrman, MD; Jay Hwang, BA; Catherine R. Beamish, BA; Clauden Louis, MD; Daniel Ziazadeh, MD, MSc; Carolyn Jones, MD, FACS, Division of Thoracic and Foregut Surgery, University of Rochester Medical Center 
Development of a Hand-Stroke Detection Algorithm in Virtual Temporal Bone Simulated Surgery
Erika Lee, MD, Resident, Max Rady College of Medicine University of Manitoba; Mina Davari, MSc., Graduate Student; Max Rady, MD, College of Medicine, University of Manitoba; Justyn Pisa, AuD; Max Rady College of Medicine, University of Manitoba; Bert Unger, MD, PhD, Vice Director, Biomedical Engineering Program; Assistant Professor, Faculty of Health Sciences, University of Manitoba; Jordan B. Hochman, MD, FRSCS, Neurotologic Surgery, Associate Professor, Faculty of Health Sciences, University of Manitoba  
Dragon Skin Mold for Simulating Nerve Blocks
Chelsea Hamill, MD, University Hospitals/Case Western Reserve, Department of Otolaryngology; N. Scott Howard, MD, University Hospitals/Case Western Reserve, Department of Otolaryngology 
Epistaxis Management Training Utilizing a High-Fidelity Simulator
Scott E. Mann, MD, Assistant Professor, University of Colorado Department of Otolaryngology Head and Neck Surgery; Farshad N. Chowdhury, MD, Resident, University of Colorado Department of Otolaryngology Head and Neck Surgery 
From 3D Printing to Hot Glue: Modeling Nasal Endoscopy For Epistaxis
Chelsea S. Hamill, MD- University Hospitals/Case Western reserve, Department of Otolaryngology N. Scott Howard, MD- University Hospitals/Case Western reserve, Department of Otolaryngology 
From Open Source to Crowdsourced: A Pilot Test for Mass Produced 3D-Printed Simulators
Michelle Higgins, PhD, Mayo Clinic Alix School of Medicine, Phoenix, AZ; Brian Walker, MD, Otolaryngology-Head and Neck Surgery, Mayo Clinic, Phoenix, AZ; David Barrs, MD, Professor Emeritus, Otolaryngology-Head and Neck Surgery, Mayo Clinic, Phoenix, AZ; Peter Weisskopf, MD, Otolaryngology-Head and Neck Surgery, Mayo Clinic, Phoenix, AZ 
High-Fidelity, Low-Cost Simulator Curriculum for Basic Otolaryngology Skills in Low Resource Settings
Henya Sandhaus, MD 
Incorporation of an Otolaryngology Curriculum into a Residency Prep Course for Fourth-Year Medical Students
Charles Keilin, MD; Janice L. Farlow, MD 
Learning to Operate in a Mirror: 3-D Printed Adenoidectomy Task Trainer Using a Smartphone and a Suction Cautery "Stylus"
Vusala Synder, MD 
Mastery Learning in Endoscopic Sinus Surgery: A Modular, Medium-Fidelity Simulation Model for Acquiring the Fundamental Skills
Thomas Hudson, MD MASc (1) Amar Bhindi, MD (2) Marc Tewfik, MD MSc FRCSC (1) Lily Nguyen, MD MSc FRCSC (1) (1) Department of Otolaryngology - Head and Neck Surgery, McGill University (2) Department of Medicine, McGill University 
Modular Robotic Simulation Base for Oropharyngeal Procedures
Javier J. M. Howard, MD, MPH1 (presenter), Stella M. Yang,1 Tyler S. Okland, MD,1 Rustin G. Kashani,1 MD, Jose Francisco Arbouin Vargas,1 Jon-Paul Pepper, MD,2 Katherine R Kavanagh, MD,3,4 Tulio Valdez, MD, MSc1,5 1 Department of Otolaryngology, Head and Neck Surgery, Stanford University, Palo Alto, CA, USA 2Division of Facial Plastic and Reconstructive Surgery, Department of Otolaryngology-Head & Neck Surgery, Stanford University School of Medicine, Stanford, CA, USA 3Department of Otolaryngology, Head and Neck Surgery, University of Connecticut School of Medicine, Hartford, CT, USA 4Connecticut Children's Hospital, Hartford, CT, USA 5Lucile Packard Children's Hospital, Palo Alto, CA, USA 
OtoVis - A Virtual Ear Simulator
Lead presenter: (1) Dongho Shin MD Corresponding author: (1,3) Justin T. Lui, MD, FRCSC  Co-authors: (2) Arthur V. Batista, MSc (2) Christopher Bell MD (2,3) Joseph C. Dort, Olson Research Initiative, University of Calgary, Calgary, Canada (1) Joseph M. Chen, MD, FRCSC   (1) Department of Otolaryngology–Head and Neck Surgery, University of Toronto, Toronto, Canada (2) Ohlson Research Initiative, University of Calgary, Calgary, Canada (3) Division of Otolaryngology–Head & Neck Surgery, Department of Surgery, University of Calgary, Calgary, Canada 
Rapid Implementation of COVID-19 Tracheostomy Simulation Training to Increase Surgeon Safety and Confidence
Phil Losavio, MD; and Inna Hussain, MD 
SurgiVisLanguage in Simulation and Surgical Training during COVID Operative Environment
Srinivasa Rao-Merugumala, Shri Vishnavi Merugumala 
Sustainability of an in situ Simulation-Based Pediatric Tracheostomy Care Quality Improvement Program
Sadia T. Ahmed, MD, Northwell LIJ Medical Center 
The Virtual Coach: A Mixed-Reality Simulator Designed for the Deliberate Practice of Endoscopic Sinus Surgery
Eugene Chang, MD 
USB Digital Microscope for Temporal Bone Dissection: A Convenient Alternative
Jennilyn C. Bancifra, MD, DPB-OHNS; Natividad Almazan; Melanie Grace Cruz 
Use of a 3D Printed Simulator to Replicate Free Flap Osteotomies during Mandibular Reconstruction
Allen L. Feng, MD (presenter), Hassan B. Nasser, MD, Kelly M. Malloy, MD, David A. Zopf, MD, MA, Matthew E. Spector, MD, at the Department of Otolaryngology, University of Michigan 
Using Real-Time Dual Video Conferencing for Suturing Skills Assessment for Otolaryngology Residency Candidate Interviews with a Novel Simulation of Tracheostoma Maturation
Andrew J. Goates, MD; Robert J. Macielak, MD; Ryan A. McMillan, MD; Semirra L. Bayan, MD; Janalee K. Stokken, MD; at Mayo Clinic Department of Otolaryngology 
Validation of a Novel Surgical Simulator for Thyroidectomy
Bharat Yarlagada, MD, Lahey Hospital and Medical Center; Alexis Graham-Stephenson, MD, Lahey Hospital and Medical Center; and Fanny Gabrysz-Forget, MD, University of Montreal