---
Powerhouse Panel Presents Strategies to Close Gender Disparities in Otolaryngology | Available On-Demand
Q&A with Erynne A. Faucett, MD
---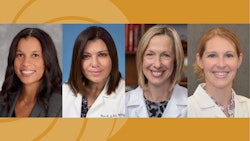 The COVID-19 pandemic has heightened a host of social and healthcare disparities in the United States, among them the pay gap between male and female physicians. Erynne A. Faucett, MD, talked with Meeting Daily about closing the pay gap and gender disparities in the field. Dr. Faucett, pediatric otolaryngologist at Phoenix Children's Hospital, and assistant professor at Mayo Clinic College of Medicine and Science and University of Arizona College of Medicine Department of Child Health in Phoenix, Arizona, will moderate the session with input from panelists Carol R. Bradford, MD, MS, AAO-HNS/F President and dean of the medical college and vice president for health sciences at The Ohio State University Wexner Medical Center, Columbus, Ohio; Maie A. St. John, MD, PhD, professor and chair of head and neck surgery at UCLA Health in Los Angeles, California; and Sarah N. Bowe, MD, associate professor of surgery at the Uniformed Services University of the Health Sciences, San Antonio, Texas.
Meeting Daily: What are the statistics of the gender pay gap in otolaryngology-head and neck surgery?
Dr. Faucett: In a recent article by Dr. Robin Lindsay, it was stated that female otolaryngologists are paid 77 cents on the dollar compared to their male colleagues. This is even after accounting for age, experience, faculty rank, research productivity, and clinical revenue.
Meeting Daily: Why do the pay gap and other gender disparities matter?
Dr. Faucett: The COVID-19 pandemic has increased the already high incidence of physician burnout. The presence of gender inequities can affect morale, lead to burnout, affect well-being, and other aspects of mental health. Burnout can decrease production and motivation. Also, as Dr. Mona Abaza states in a recent publication, gender biases have effects on organizational satisfaction and retention. Devaluation of women through lack of acknowledgment and financial inequity contributes to this.
Meeting Daily: What are some of the reasons for the gap?
Dr. Faucett: As Dr. Lindsay also stated, there are many reasons used to explain the gender pay gap, including that women work less, have less research productivity, and produce lower quality care—all which are incorrect. Real potential causes include gender bias, organization culture, fear of retaliation, promotion inequalities, lack of transparency, and senior leadership not being held accountable for equity and diversity concerns.
Meeting Daily: What's the difference in the gap pre-COVID-19 pandemic versus during the pandemic?
Dr. Faucett: I think we have yet to find official data points as we are still in the midst of the pandemic, but it has been shown that the pandemic has widened the professional chasm between men and women surgeons—which has hindered advancement of women's careers and leadership growth, which will be addressed in the panel.
Meeting Daily: How and why has the COVID-19 pandemic widened the gap?
Dr. Faucett: Compared with male colleagues, women in medicine typically bear substantially more responsibility for dependent care, as well as teaching of children and performing domestic duties during the pandemic. This ultimately impedes women physicians' clinical and academic productivity, creating worsening barriers for career advancement or to achieving equal compensation.
Meeting Daily: What are some strategies for closing the gap?
Dr. Faucett: For some—recognizing there is a gap. Creating more academic and career advancement opportunities in less typical areas such as community advocacy and patient care leaders; providing direct support in the area of childcare and family support; creating a space whereby "nontraditional endeavors" receive similar weight as more traditional metrics.
Meeting Daily: What can attendees expect from the session?
Dr. Faucett: I think it's important to note that the pandemic did not create gender disparity in opportunity, academic/career advancement in pay, but it has exacerbated and highlighted it. The panelists will identify the impact of the pandemic on women in otolaryngology-head and neck surgery at home and at work. Then, they will present potential solutions and best practices for institutions to prevent widening the already-present disparities in career advancement, productivity, and compensation for women within otolaryngology-head and neck surgery. I think having these amazing women—powerhouses in our field and in medicine—speak on these strategies is important. Hopefully, other leaders can follow suit.
 Visit the Annual Meeting & OTO Experience Meeting Daily for more articles.