---
Science Takes Center Stage at #OTOMTG21
The Annual Meeting features 220 oral sessions and 500 scientific poster presentations.
---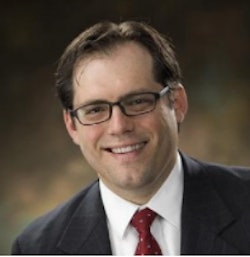 As you make your way around this year's Annual Meeting, you'll notice that scientific discoveries, presentations, and talks will be happening all around you. In fact, they may be hard to avoid. Not that you'll want to.
Daniel C. Chelius, Jr., MD, pediatric otolaryngologist at Texas Children's Hospital in Houston, Texas, and AAO-HSNF Annual Meeting Program Coordinator, said this year will feature 220 Scientific Oral Presentations and more than 500 Scientific Poster Presentations with presenters from all over the United States and around the world.
"Our presenters come from throughout the field," he said. "From academia, and private practice, from world-renowned basic science labs and rising translational research programs, from large research hospitals and small underserved clinics. Our oral session moderators are leaders in their fields and include many of the Academy's leaders in education and research."
In addition, Dr. Chelius said there will be 30 Scientific Oral sessions with at least one session from each of the subspecialty tracks. At 9:30 am (PT), Sunday, guests can attend the Best of Scientific Oral Presentations session. There will also be two Late-Breaking Scientific Oral Presentation sessions at 10:00 am (PT) on October 4 and 5.
Dr. Chelius said the "Best Of" presentation on Sunday will highlight cutting-edge science from each subspecialty area.
"Some of the presentations include oncology outcomes in partial laryngectomy," he said. "Also, outcomes in COVID-related tracheostomies, mechanisms of radiation toxicity in schwannoma therapy, and an analysis of cytologic markers in pediatric aerodigestive disease."
The other Oral presentations are expected to cover a wide range of scientific subjects.
"There are many talks detailing the impact of COVID-19 in the otolaryngology community," said Dr. Chelius. "There is a great mix of basic, clinical, and translation science."
In spite of the pandemic trends limiting travel, Dr. Chelius said the Academy received a record number of high-quality, late-breaking scientific submissions. Some of those selected for presentation on Monday and Tuesday include:
A Protocol for Propofol-Infusion Drug-Induced Sleep Endoscopy
Gene Therapy for Hair Cell Regeneration: A Review of the First In-Man Inner Ear Gene Therapy Trial
The Efficacy and Safety of Eustachian Tube Balloon Dilation in Children: A Meta-Analysis
The Impact of Biologics on Sinonasal Outcomes in Patients Treated for AERD
COVID-19 Pandemic Effect on Otolaryngology Resident Surgical Case Numbers
Early Hearing Preservation Outcomes with New Slim Lateral Wall Electrode Using Electrocochleography
Higher mir-31-5p Expression Associated with Reduced 1-year Keloid Recurrence Following Resection
The Effect of p16 Status on Survival Outcomes in Sinonasal Squamous Cell Carcinomas
Characterization of the Metabolic Phenotype in Oropharyngeal Squamous Cell Carcinoma Tumors 
As if all of that wasn't enough, Dr. Chelius said attendees should be sure to check out the Poster halls — both in-person and online — for more great scientific updates and information.
 "They are wonderful places to efficiently make new connections," he said. "All posters will have contact information for presenters. I would encourage attendees to reach out to presenters with questions and collaborative research ideas and to forge new interinstitutional relationships."  
Visit the Annual Meeting & OTO Experience Meeting Daily for more articles.