---
Humanitarian Efforts Continue Despite Pandemic Restrictions
Otolaryngologists pursue service efforts.
---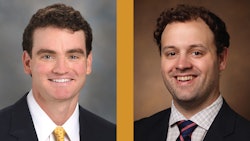 The COVID-19 pandemic has increased the need for humanitarian efforts while also making it more difficult to respond to that need because of travel restrictions.
Despite this, the American Academy of Otolaryngology–Head and Neck Surgery Foundation (AAO-HNSF) has continued its work in the past year and will discuss those efforts and more at this year's Humanitarian Efforts Forum 1:00 – 3:15 pm on Monday.
Mark E. Zafereo, Jr., MD, who is professor of head and neck surgery at MD Anderson Cancer Center in Houston, Texas; section chief of head and neck endocrine surgery; and associate medical director of the Head & Neck Center at MD Anderson Cancer Center, serves as Chair of the AAO-HNSF Humanitarian Efforts Committee and incoming Coordinator for International Affairs. He said the committee has continued to fund Humanitarian Travel Grant Awards for residents and fellows even in the midst of the pandemic.
"Those have been very competitive in past years," he said. "And we expect these applications to pick up again this year with the resumption of international travel."
While the travel limitations have been in place, Dr. Zafereo said committee members have been participating virtually in many international AAO-HNSF education conferences for global otolaryngologists, particularly those in medically underserved countries.
Ryan H. Belcher, MD, MPH, member of the Humanitarian Efforts Committee and assistant professor of Pediatric Otolaryngology at Vanderbilt Children's Hospital in Nashville, Tennessee, said the two-hour forum will feature several panels and perspectives for those who attend, including a discussion on evaluating the unique ethical issues and disparity concerns with humanitarian efforts in low-resource settings—especially in the backdrop of the COVID-19 pandemic.
"Attendees will hear from experts on their global experiences and how the landscape of global health has changed over the past couple of decades," said Dr. Belcher. "They will also hear from past Humanitarian Travel Grant awardees about the impact made with their otolaryngology efforts from around the world."
In addition, the forum will feature the presentations of the AAO-HNSF International Public Service, International Humanitarian, and Distinguished Award for Humanitarian Services winners from this year.
Forum attendees will hear from Susan Emmett, MD, MPH, TED Global Fellow and assistant professor of Global Health, Head and Neck Surgery and Communication Sciences at Duke University in Durham, North Carolina. Dr. Emmett will share her research into the social, economic, and health effects of hearing loss around the world.
Dr. Zafereo said the Humanitarian Efforts Committee gives service-minded physicians an opportunity to connect with others of the same mind.
"Most of us chose medicine as a vocation in order to serve others," he said. "And the Humanitarian Efforts Committee gives those in AAO-HNS with a heart for service an opportunity to network with other, like-minded head and neck surgeons around the globe. It also gives us the opportunity to coordinate those humanitarian efforts for the maximum educational benefit of healthcare providers in underserved areas."
Dr. Belcher said he hopes those attending the session will gain a better understanding of what's going on around the world and how the specialty of otolaryngology is contributing on a global scale.
"We hope people will gain a better appreciation of the otolaryngologic humanitarian efforts in the United States and abroad," he said. "As well as being able to connect with others in the field that have similar global health interests."
Visit the Annual Meeting & OTO Experience Meeting Daily for more articles.