---
A 125-year Celebration Kicks Off at #OTOMTG21
The 125th anniversary celebration of the Academy kicks off the Annual Meeting with a number of special elements planned for attendees.
---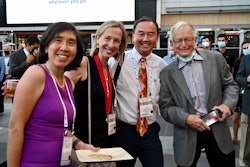 During the evening of October 2, in the open-air venue of Xbox Plaza, on a beautiful California evening, Carol R. Bradford, MD, MS, AAO-HNS/F President, welcomed attendees during the Presidents' Reception of the AAO-HNSF 2021 Annual Meeting & OTO Experience. The event represented the return to the in-person meeting, something sorely missed over the last 20+ months of the COVID-19 pandemic. But it was also the kickoff to the 125th anniversary celebration of the Academy and the Annual Meeting with a number of special elements planned for attendees that highlight such a commemorative year.
Pick up a copy of Legacy of Excellence, free to Academy members and available for purchase for nonmembers and members who want to purchase another copy in the OTO Store in the South Lobby. This sequel to Century of Excellence documents the Academy's contributions to otolaryngology-head and neck surgery and medicine over the past 25 years.
Further explore the Academy's rich history in the 125th Anniversary Legacy of Excellence Museum. From this exhibit in the South Lobby, you can view a sampling of artifacts that traveled to Los Angeles from the John Q. Adams Center for the History of Otolaryngology-Head and Neck Surgery housed at the Academy's headquarters–Including some original artwork from Chevalier Jackson, MD, from 1939!
The Annual Meeting program jump starts at 8:00 am (PT) with the Opening Ceremony in Hall K of the LA Convention Center. The AAO-HNSF is honored to welcome Neha Sangwan, MD, as the keynote speaker at the Opening Ceremony. Dr. Sangwan will provide a positive outlook on wellness for the medical community both as a whole and as individuals during her interactive keynote speech titled, "Self-Care in Healthcare." The Opening Ceremony will also feature speeches from Academy leaders and new videos showcasing members, the specialty, and Academy initiatives.
Sunday is just the beginning as the AAO-HNSF sets its sights on the next 125 years!