---
Get the Latest in Scientific Research
Researchers from around the world will bring their findings to Philadelphia, Pennsylvania.
---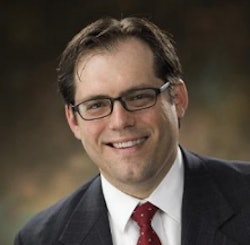 The latest research and advances in otolaryngology-head and neck surgery will be front and center at this year's Annual Meeting as nearly 1,000 Scientific Posters presenters and Scientific Oral presenters will share their findings.
Daniel C. Chelius, Jr., MD, AAO-HNSF Annual Meeting Program Coordinator, said the meeting will also feature 80 late-breaking abstracts with the most up-to-date breakthroughs. Those numbers, Dr. Chelius said, represent the culmination of an ongoing trend as more researchers look to share their work with their peers at the Annual Meeting.
"There is such an appetite to share our work with colleagues and to get feedback," he said. "Presenting a Poster is a wonderful mentorship opportunity for medical students and residents, and often facilitates their ability to attend the Annual Meeting. As we come out of the most isolating parts of the pandemic, I think this signals our market desire to return to our community."
More than 150 late-breaking scientific submissions have been narrowed down to 40 Oral Presentations that will be featured in four late-breaking scientific sessions and 60 posters joining more than 500 others in the Poster Hall at the OTO Experience. In addition to the posters and abstracts, the Annual Meeting Program Advisory Committee chose 19 Scientific Oral Presentations out of hundreds submitted as the "Best of Orals." Dr. Chelius said narrowing down the choices this year was not an easy task.
"It was terribly difficult for our program committee to select the oral presentations because the quality of submissions was so high," he said. "I don't envy the job our journal editors will have when it comes to selecting among the accepted presentations for publication."
BEST OF ORALS SCIENTIFIC PRESENTATION PART I
Sunday, September 11, 9:15 am (ET)
BUSINESS OF MEDICINE
Trends in Private Equity Acquisition of US Otolaryngology Practices
Hemali Shah, Parsa P. Salehi, MD, Alexandra Bourdillon, Adam Li, Kane Wu, Saral Mehra, MD, MBA
ENDOCRINE SURGERY
Hashimoto Thyroiditis Ameliorates the Risk of Recurrence in BRAF-Positive Differentiated Thyroid Carcinoma
Mahmoud Omar, MD, Yusef Buti, Mohamed Aboueisha, Peter Issa, Mohamed Shama, Emad Kandil
FACIAL PLASTIC AND RECONSTRUCTIVE SURGERY
Management, Referral Patterns, and Outcomes in Bell Palsy: A Single-Institution 924 Patient Series
Sara W. Liu, MD, Stephen P. Hadford, MD, Patrick J. Byrne, MD, MBA, Dane J. Genther, MD, Michael A. Fritz, MD, Peter J. Ciolek, MD
HEAD AND NECK SURGERY
Discrepancies in Prices of FDA-Approved Agents for Head and Neck Cancer
Abhinav Talwar, Alex J. Gordon, Michael Papazian, Babak Givi, MD
LARYNGOLOGY
Safety and Utility of Transnasal Humidified Rapid-Insufflation Ventilatory Exchange for Laser Laryngeal Surgery
Neelaysh Vukkadala, MD, Nergis C. Khan, BA, Amit Saxena, MD, Edward J. Damrose, MD, Vladimir Nekhendzy, MD, C. Kwang Sung, MD, MS
OTOLOGY/NEUROTOLOGY
Simultaneous Intratympanic Use of Gentamicin and Dexamethasone in Ménière Disease: Randomized Controlled Study
Sung Huhn Kim, MD, Seong-Hoon Bae, MD, Jeon-Mi Lee, MD, PhD, Hyun-Jin Lee, MD
Simultaneous Translabyrinthine Vestibular Schwannoma Resection and Cochlear Implantation – Long-term Follow-up
Christoph Arnoldner, MD, MBA, Alice Auinger, MD, Valerie Dahm, MD, Anselm Gadenstätter, Matthias Gerlitz, Christian Matula, MD
PEDIATRIC OTOLARYNGOLOGY
Decision Aid for Pediatric Sleep-Disordered Breathing
Chad Purcell, MD, Gerard Corsten, MD, FRSCS, Paul Hong, MD, Michael Bezuhly, MD, FRCSC
PROFESSIONAL AND PERSONAL DEVELOPMENT
Female Representation Among CORE Grant Recipients — A Longitudinal Retrospective Study
Ronit E. Malka, MD, Jivianne T. Lee, MD
RHINOLOGY/ALLERGY
Azithromycin Reduces Type 1 Inflammation and Induces Epithelial Restoration After Endoscopic Sinus Surgery
Axel E. Renteria, MD, MSc, Anastasios Maniakas, MD, MSc, Ali Filai-Mouhim, PhD, Fabiana Valera Cardoso, MD, PhD, Emmanuelle Brochiero, PhD, Martin Y. Desrosiers, MD, FRCSC
BEST OF ORALS SCIENTIFIC PRESENTATION PART II
Sunday, September 11, 10:45 am (ET)
COMPREHENSIVE OTOLARYNGOLOGY
An In Vitro Model for Cranial Nerve Injury and Rehabilitation
Ashley E. Kita, MD, Michelle Hong, Katherine Kedeshian, Kristen Echanique, MD, Larry F. Hoffman, PhD
FACIAL AND PLASTIC RECONSTRUCTIVE SURGERY
Artificial Intelligence for Objectively Measuring Aesthetic Youthfulness After Facial Rejuvenation Surgery
Zachary Elliott, Michele A. Fiorella, MS, Vanessa Christopher, MD, Alekya Bheemreddy, Howard D. Krein, MD, PhD, Ryan N. Heffelfinger, MD
OTOLOGY/NEUROTOLOGY
Slim Modiolar Versus Lateral Wall Electrode Arrays in the Setting of Hearing Preservation
Kevin Y. Zhan, MD, Amit Walia, MD, Matthew A. Shew, MD, Nedim Durakovic, MD, Craig A. Buchman, MD, Jacques A. Herzog, MD
PATIENT SAFETY AND QUALITY IMPROVEMENT
An Inter-Professional Continuous Improvement Project to Manage Difficult Airways
Mohammad Shukairy, MD, Lexia Chadwick, BA, Julie Fitzgerald, MD, Cinthia LaPorte, MSL, BSN, RNc, NE-BC, Josephine Pudwill, MSN, RN, CNL, CPN, Carol Bier-Laning, MD, MBA
PEDIATRIC OTOLARYNGOLOGY
Hearing Loss Outcomes of Prolonged and Delayed Ganciclovir Treatment in a Murine Cytomegalovirus Model
Katrina Hillam, Daniel Suarez, John P. Carey, MD, Abigail Traxler, Anna Winslow, Maura Hughes
PROFESSIONAL AND PERSONAL DEVELOPMENT
Female Representation Among CORE Grant Recipients — A Longitudinal Retrospective Study 
Ronit E. Malka, MD, Jivianne T. Lee, MD
Investigation of Gender-Based Needs in Academic Otolaryngology
Pratyusha Yalamanchi, MD, MBA, Melissa A. Pynnonen, MD, Mark E. Prince, MD, Kelly M. Malloy, MD, Robbi A. Kupfer, MD, Janet Dombrowski
RHINOLOGY/ALLERGY
Engineering for Success After Endoscopic Sinus Surgery: Decrease in T1 Inflammation, Epithelial Restoration, and Reduction in Staphylococcus aureus 
Axel E. Renteria, MD, MSc, Anastasios Maniakas, MD, MSc, Ali Filai-Mouhim, PhD, Fabiana Valera Cardoso, MD, PhD, Emmanuelle Brochiero, PhD, Martin Y. Desrosiers, MD, FRCSC
Omega-3 Fatty Acid Supplementation for the Treatment of COVID-19-Related Olfactory Dysfunction
David Lerner, MD, Katherine L. Garvey, MPH, Evan Kominsky, MD, Anthony Del Signore, MD, Satish Govindaraj, MD, Alfred Marc C. Iloreta, Jr., MD
SLEEP MEDICINE
Reliability and Accuracy of Visualized Pharyngeal Opening Pressures During Drug-Induced Sleep Endoscopy
Jason L. Yu, MD, Eric R. Thuler, MD, PhD, MBA, Everett Seay, Kendra Troske, Alan R. Schwartz, MD, Raj C. Dedhia, MD, MSCR