---
John Conley Lecture to Focus on Navigating These Challenging Times
Speaker encourages uniting around a common theme and message related to maintaining excellent patient care.
---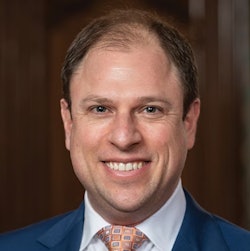 The current political climate and other extrinsic forces, including pandemic policies related to surgical triage and prioritization, the contentiousness of vaccine status for practitioners, and the impact of the Dobbs decision on reproductive rights, are just a few of the examples of contemporary pandemic and public health-related policies and regulations that can impact medical decision making and the ability to take care of patients.          
"It's a particularly tumultuous time in the history of our profession, one in which circumstances are changing in real time," said Andrew G. Shuman, MD, HEC-C, Associate Professor in the Department of Otolaryngology – Head and Neck Surgery at the University of Michigan Medical School in Ann Arbor. Dr. Shuman is also the Associate Chief of Staff at the VA Ann Arbor Health System and serves as Chief of the Clinical Ethics Service in the Center for Bioethics and Social Sciences in Medicine.
Recognized as a thought leader in ethical issues arising within the field of otolaryngology and surgical oncology, Dr. Shuman will present the John Conley, MD Lecture on Medical Ethics: "Reflections on Our Profession in the Face of an Ongoing Pandemic," which will explore how to respond to these challenges.
"It is important to maintain, support, and protect professional values when faced with situations that challenge them," Dr. Shuman said. "The key is to have honest and open discussions about contentious issues in a way that doesn't create political silos and respects patients, providers, and others with whom we may disagree. Uniting around a common theme and message related to maintaining excellent patient care can make these important conversations possible."  
Dr. Shuman's lecture will discuss today's political and healthcare policies to contextualize broader, less time-sensitive themes.
"As role models within society and healthcare at large, as well as the individuals tasked with delivering care, we have a duty to protect patients' best interests and remain committed to issues of justice, fairness, equal access, and nondiscrimination," he said.
Be prepared to be inspired and come away with strategies to address these sensitive topics in your practice.  
Dr. Shuman is the Chair-elect of the Ethics Committee and will assume the role of Chair as of October 1, 2022.